Hello, welcome to my Toyhouse! 
This is where I keep my characters
★CARRD!!★ https://hellerline.carrd.co/
Latest Bulletin
---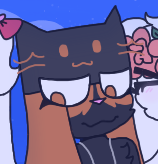 This might be my very first post on here, also I didn't make this, I stole it from someone else 
Anyways, I hope you enjoy! I will answer some questions about my ocs.
1. Who was your very first human / anthro / feral sona?
Ninja Cat was my very own oc and I think I made him when I was about 8 years old?
2. Which sona has been redesigned the most / has the most iterations?
Uhhh, I barely change my ocs but I think the character I most redesigned is maybe Amora?
3. Which sona has the most art?
Cakepop for sure.
4. Did you design any sonas in mind to specifically be a sona, or have your sonas been happy accidents?
Yeah, my sonas were made to represent me in a way.
5. Do you have any physical items of your sonas? (e.g. pins, stickers, plushies)
Yes.
6. Do you have any retired sonas?
Kind of? Even though I still use them but rarely.
7. How many of your sonas were designed by you?
All of them were designed by me.
8. Have you had any sonas that you traded away?
No.
9. How many sonas do you have?
9.
10. Which sona do you think is the one most commonly associated with you?
Cakepop/Dex.
11. Would you ever want to dress up / cosplay / fursuit any of your sonas?
Yeah, sure, it seems fun!
12. Have any of your sonas never been redesigned?
Yes, I guess I just barely redesign ocs.