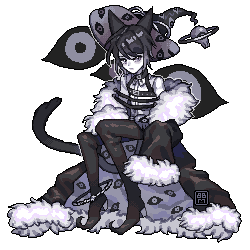 my deviantart
pixel by BEDBUGMOCHI , avatar by fuumaru
Hello, my alias is Hatori and I draw on occassion. Although art is just a hobby, I wish to keep improving. 
A little more info about me: 
Age 

26

Pronouns

He/She/They (Any is O.K.!)

Country/TZ

U.S. / Pacific Standard Time (PST)

Languages

ESPAÑOL, ENGLISH.




Hobbies

Drawing, playing video games, collecting Yu-Gi-Oh! cards, building Gunpla,




hanging out/talking with friends

Fav. Music

Metal, Alternative, Grunge, Classical, but 




open to all. 

Fav. Genre




(Books, Movies,




etc.)

Horror, Thriller, Adventure, Sci-Fi, Comedy,




Supernatural, Romance.

Fav. Anime

Jojo's Bizarre Adventure, Zankyou No Terror, Monogatari Series, 




Sayonara Zetsubou Sensei, Gundam Series,




Durarara!!, Darker Than Black, Kare Kano, 91 days.

Fav. Manga

Horimiya, Fruits Basket, Tokyou Ghoul, Btooom!, Orange, ERASED
Please note that not all of my characters will be visible! I have a few on private and some in public in case I am commissioning someone. Thank you for understanding!
Please do not:
Use my characters without my permission
Claim my characters as your own
Steal, use, or claim my characters' respective art
⋆ And please be respectful of characters whether mine or someone else's! 
 Thank you and have a wonderful day!