LimeReptile
24 | SHE/her | sfw
Latest Bulletin
---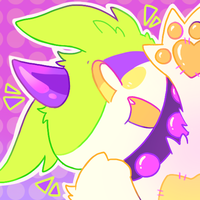 Time to sell some adopts!
I've been wanting to try those out since last year actually, but I've decided I'd finally give it a shot. Every week on Wednesdays, until December ( whenever possible of course! ), I'll try to post some new designs, just for fun. The reason I'm selling those is because I don't think I'm very likely to use them, since I already got my webcomic to work on. They'll pretty much all follow two specific themes too, which would be Fall and Halloween ! 
( Side note: I'll also put some characters for sale from time to time, so if that's something you'd be interested in, check out my For Sale folder! It's a bit empty by the time this bulletin goes live, but I'll try to slowly add more stuff  ).
Thank you so much for reading everyone, and see you soon!