About
Just another lame-o character collector. Gaze upon my pastel hoard and know fear!
Friends
Details
Interests
Art Status
Commissions: Closed Trades: Closed Requests: Closed
Notice
Anything in the "V" tag is for trade/sale , stuff in the "III" tag is tentative.
---
Links
Latest Bulletin
---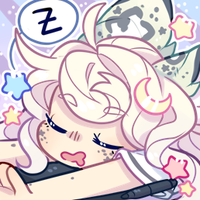 Turns out ko-fi has a little store!
I've thrown up a few of my bases there for sale for anyone who wants them~ Right now it's just the wereboof ref one and the older chibi anthro one but i'll be adding more later! https://ko-fi.com/lunaeden/shop
Recent Characters & Designs
---