About
Just another lame-o character collector. Gaze upon my pastel hoard and know fear!
Friends
Details
Interests
Art Status
Commissions: Closed Trades: Closed Requests: Closed
Notice
Anything in the "V" tag is for trade/sale , stuff in the "III" tag is tentative.
---
Links
Latest Bulletin
---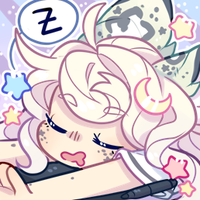 Doing coms a little different this month! I'm taking coms weekly and only taking a couple a week this month ovo~ Figured I'd try something a little different to see if it works better for me productivity wise! Forms will carry over to the next opening as well so if I don't pick you this week there's a chance I will next week!
ALSO, I've added a separate form for minis and icons that will always be open and that I'll pull from in my off time as I feel like working on them ovo~ So if you're submitting a batch make sure that you're ok with paying for it whenever I pick you!
~~~
My prices, examples and TOS are here : https://lunareden.weebly.com/
Please give them a little look through before commissioning me!
There will be 1-3 slots! They are NOT first come, first serve. I'll be taking the ones that most interest me ovo~
The form is here:
COMMISSIONS - https://forms.gle/a1rcsfkUTssUy7Jb9
CUSTOMS - https://forms.gle/o6E7v8ScsVHM9u9dA
MINIS / ICONS - https://forms.gle/w29Cv3NzbAxsr7sH6
Please make sure your contact info is correct and that you are only submitting ONE commission per form with the exception of mini chibi or icon batches.
Form submission will be open until Monday the 17th at noon MST!
At that point i'll be getting in contact with the people who's forms I choose. If you'd like to be pinged for my next opening please let me know and I can add you to my ping list <3
Ping List:
Also if you're interested in getting first access to commissions as well as a bunch of other cool stuff please consider supporting me on Patreon! https://www.patreon.com/LunaEden
Recent Characters & Designs
---