💕 Mary / Drennan 💕 
"Toss a coin to your Witcher, O' Valley of Plenty!"
26 | She / Her | Pansexual | Married | Gemini | INTP
Artist | Furry | Gamer | Lover of Sushi & ASMR
💜 View My Amazon Wishlist Here 💜
📄 View my TOS Here 📄 
Disclaimers / Personal Info / Etcetera
Header image by StarSheeb!
🌸🌸🌸🌸🌸🌸🌸🌸🌸🌸🌸🌸🌸🌸🌸🌸🌸🌸🌸🌸
Please understand that I get easily flustered & am very forgetful, I also have severe anxiety and depression and find it hard to communicate / reply sometimes. If I've opened your message and haven't replied within an hour, please be patient with me, and feel free to resend the message if responses have been delayed for 24+ hours. Sometimes I open messages when I have no motivation to respond and they get buried, so don't worry about bothering me with multiple messages, it's not a bother at all! Thanks for understanding!! <3
🌸🌸🌸🌸🌸🌸🌸🌸🌸🌸🌸🌸🌸🌸🌸🌸🌸🌸🌸🌸
Latest Bulletin
---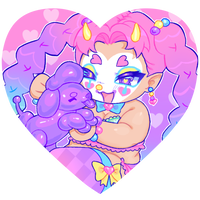 Every since I woke up I've been dizzy and disoriented and just not feeling good. Not exactly sure why but I accidentally skipped my meds 2 days in a row so it's definitely leaning towards that being the cause. I've been falling asleep before 10pm which is the normal time I take my meds so I totally spaced and slept through my alarm for it both days. I just feel so awful but I'm going to try and stay up tonight so I can take them on time. I just hate feeling this way.