"Toss a coin to your Witcher, O' Valley of Plenty!"
28 | She / Her | Pansexual | Married | Gemini | INTP
Artist | Furry | Gamer | Lover of Sushi & ASMR
♾ Autistic & Disabled ♾ 
A lot of my characters are super colourful so please be aware of that when browsing through my pages! 
🎶 View My Current Fave Song Here 🎶 
🌸 View My Design Wishlist Here 🌸
💜 View My Amazon Wishlist Here 💜
🏳️‍🌈 View My Carrd Here 🏳️‍🌈
📄 View my TOS Here 📄 
Disclaimers / Personal Info / DNI / Etcetera
Header image by JaxxDaw!
Icon by Momo-The-Unknown!


🌻🌻🌻🌻🌻🌻🌻🌻🌻🌻🌻🌻🌻🌻🌻🌻🌻🌻🌻🌻🌻
Please understand that I get easily flustered & am very forgetful, I also have severe anxiety, depression, ADHD, Autism, and memory issues and find it hard to communicate / reply sometimes. If I've opened your message and haven't replied, please be patient with me, and feel free to resend the message if responses have been delayed for 6+ hours. Sometimes I open messages when I don't have the spoons to respond and they get buried, so don't worry about bothering me with multiple messages, it's not a bother at all! 
Thanks for understanding!! <3
🌻🌻🌻🌻🌻🌻🌻🌻🌻🌻🌻🌻🌻🌻🌻🌻🌻🌻🌻🌻🌻
Latest Bulletin
---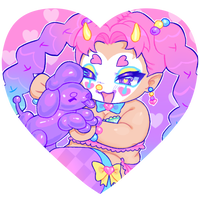 Bananas & Cream Monkey Auction! 
Absolutely beautiful reference & redesign by the incredible JaxxDaw!!
Prioritizing Cashapp offers but I will also accept PayPal & Venmo! 
Characters as add-on only, offer must have money involved. 
SB: $30USD
MI: $2USD
AB: TBA
End Date: TBA
(Crossposted)
Bid below or here
Thanks for checking this out! 
💖