💕 Mary / Drennan 💕 
"Toss a coin to your Witcher, O' Valley of Plenty!"
25 | She / Her | Pansexual | Married | Gemini | INTP
Artist | Furry | Gamer | Lover of Sushi
📄 View my TOS Here 📄 
Dislclaimers / Personal Info / Etcetera
Header image by StarSheeb!
🌸🌸🌸🌸🌸🌸🌸🌸🌸🌸🌸🌸🌸🌸🌸🌸🌸🌸🌸🌸
Please understand that I get easily flustered & am very forgetful, I also have severe anxiety and depression and find it hard to communicate / reply sometimes. If I've opened your message and haven't replied within an hour, please be patient with me, and feel free to resend the message if responses have been delayed for 24+ hours. Sometimes I open messages when I'm half asleep or when I have no motivation to respond and they get buried, so don't worry about bothering me with multiple messages, it's not a bother at all! Thanks for understanding!! <3
🌸🌸🌸🌸🌸🌸🌸🌸🌸🌸🌸🌸🌸🌸🌸🌸🌸🌸🌸🌸
Latest Bulletin
---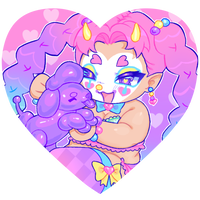 Hey y'all, I'm doing some quick cheap customs on any of my currently available bases.
Previous Customs / Artwork Here and Here
They should be finished by this weekend!
Comment below or message me with the base you'd like, a colour palette, and any other details you have for your custom. Thanks y'all! <3