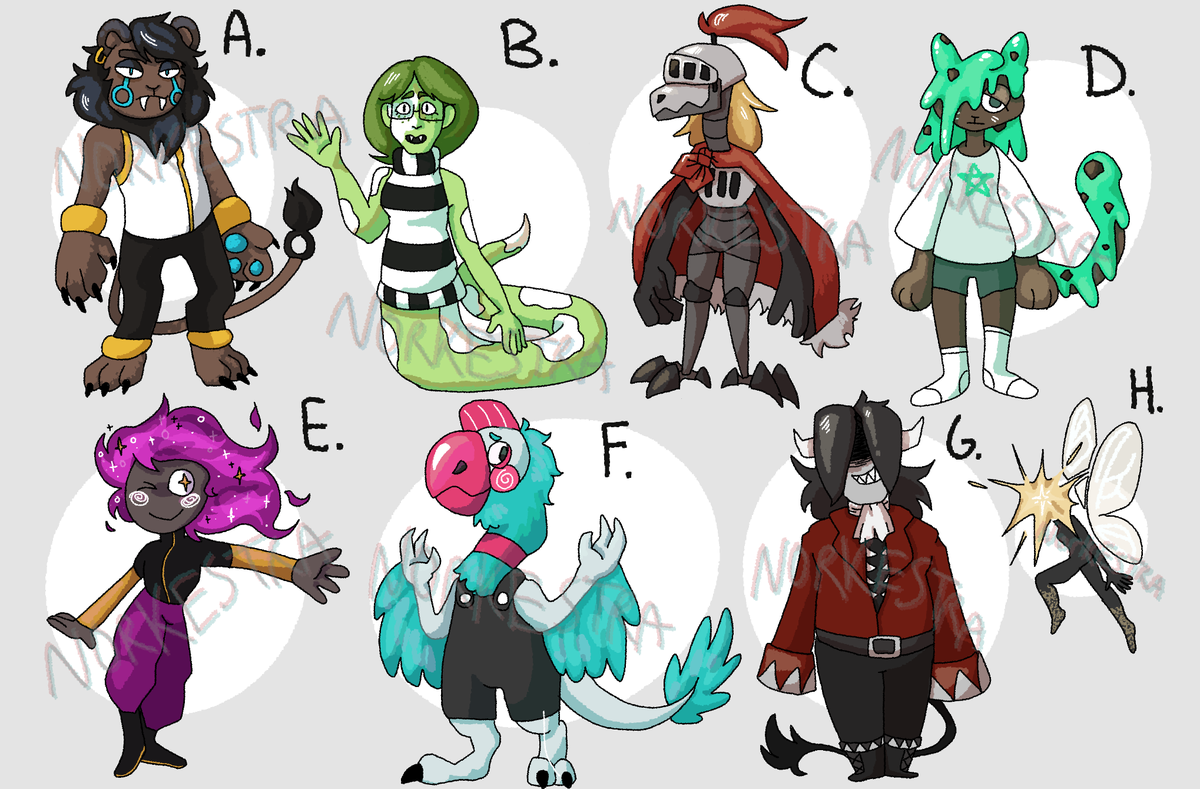 $9 each, (except H they are $6 bc small lol)
Extra $3 ill throw in an icon!
I am back from my volunteer trip! Between that, my tablet breaking and finals kicking my ass, I wasn't in shape to do Toyhouse stuff til now.
But my friend has lent me his old tablet n I should be good to go for now!!
Looking forward to making much more art this year!
Also looking for more platforms to post art on, any reccomendations?
Design Sales/Non Closed-Species Adoptables:
You can do whatever with the design once you have bought it; make it your sona, sell it, tweak the design, etc. They're all yours.
Just please try credit/link back to me on any Toyhouse, etc profiles you may make for that character. It'd also help to credit me the first time you post any art of them,

((If you tell me you made art on tumblr…I would definitely reblog it :> ))

Do not claim the design as your own creation. If you make heavy adjustments it's still just nice to link back to the original artist so I can get more support!
In the case of multiple users asking to buy at once, I have the final say in who gets the design. I will use my best judgement to determine who asked first, please be respectful to others.
I hold the right to refuse to sell the design for any reason before money is exchanged, Once exchanged, it is out of my hands!
If design is resold, please link the new owner to my page so I can be credited if they make a profile page, etc.
If you want me to alter the original art, please understand that I may ask for a small charge.
It is totally cool to co-own a design by me!
You may resell. Though be classy; don't up the price a ton unless there's extra new art included.
SPECIFICALLY FOR 3D MODELS:
If I give you a 3D Model file DO NOT USE THE MODEL AND TEXTURE TO MAKE MORE CHARACTERS. At least not without my permission, as I may one day sell them as blank templates. That is basically stealing.
If you want to tweak the texture...ask me first!
You may rig an unrigged model by me, and OF COURSE you can animate it! Just credit me if posted on youtube.
Do not use a 3D model for a game without contacting me first. If it's a free game I will most likely say yes as long as I am credited!