Lucifer
19 . nonbinary . actual devil
---
Alternatively: majestic forest god of mysterious and indistinct alignment.
I'm not known to be the nicest person on this planet, but I do my best. I have like 50 million characters but alot of them are hidden bcs;;; they're not done and I need everything to be perfect. Like me. //slapped
You can also call me Yuu or Vage if that's easier or more comfortable for you.
---
Notice
If you're reading this then this page is not yet done.
None of my characters are for trade/sale. Don't even ask.

I'll eventually have a folder for adopts and misc designs you can offer on. But this might take eons because I am A Snail.

Tags are more for my own organization.
I have no idea what this "character worth" is but I hate it.
You're wonderful ;3c
Chibis are by Uncanny-Illustrator
Icon is by Fivey
Commissions
Sales Open
Trades SOON
Requests Closed
My commissions are open wee!!! They are my only source of money right now so please do consider checking them out, it would mean a lot!
Latest Bulletin
---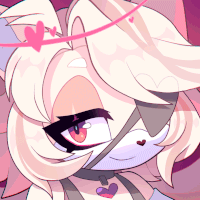 My new year's resolution this year is to finally draw refs (and renders, and toyhou.se icons) for my characters!! Starting when my to-do list calms down a little.
but u kno me and my indecisive ass ovo;; so here's a few characters I've been in the mood in!! whoever has the most votes by the time I get to this will be done first~
Recent Characters & Designs
---