Wander/Tobias - They/them - 19 - Disabled
Hi! Names Wander or Tobias! I am currently in college working on my computer science degree. I hope to make the world more accessible, and am trying to learn (working on slowly updating HTML for this)
I'm not the best but I do like creating worlds and stories with my characters. While I'm not quite ready to share them with the world, feel free to ask me questions about my characters and I would love to respond!!
Im still figuring out an organization method for my characters please send help lmao
Interests
Main Interests: Film/Animation, Portal, Disney (Fuck the company), Pixar, Gorillaz, and Minecraft
Major Interests: Ok GO, Our Flag Means Death, Wander Over Yonder, Oswald the Lucky Rabbit
Minor Interests: Homestuck, Wandersong, Chicory: A Colorful Tale, Oxenfree, The Stanley Parable, and LoTR
Misc notes
I am neurodivergent and disabled so please be patient if you can (Dyslexic, Autistic, and ADHD)
I am very sensitive and shy, but I try to not let it get in the way of me being here!
I do not have any nsfw/mature content on my page as a heads up!
Stamps!




HTML by Jade-Everstone // Stamps - pvnksoda // bg - Unsplash
---
Recent Characters & Designs
---
Latest Bulletin
---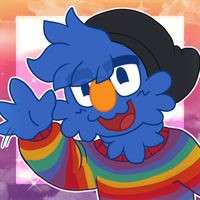 Ty in directly FNGaymer for having a thing! I learned about them which is silly ive been using TH for a year now, so ill be moving all my TOS, and links/lists type content over to them slowly. The TOS itself hasnt changed, just moving the location, but ill make sure all links to it are moved