☆ ★ ☆ ★ ☆ ★
26 . she/they . INFJ . 6w5
---
Hey there! I'm Zap / Spyromancy. I'm an animation major graduate, and currently work freelance / contract work for animation and illustration. I love drawing and writing, and I'm also currently a co-admin for the Chimereons group on dA owned by ground-lion / seel! My characters are currently on login-only due to the nasty en/eff/tee situation.
---
Notice
Fanart is always welcome, but please do not draw NSFW of any of my characters!
You can offer on my characters, but be prepared for me to say no!
Please do not color pick or base your characters off of mine!
It's totally okay to fav-bomb me; I don't mind!
You're super rad, have a nice day!
Commissions
Sales Closed
Trades Closed
Requests Closed

1 - Gei-Kkun's horned boy OC
2 - Chuziku fullbody cham
3 - Chuziku colored sketch fullbody
4 - Silv's Sylvester swingdance fullbody
5 - --
6 - --
Featured
Latest Bulletin
---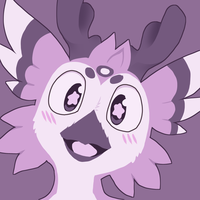 HEY OMG! I haven't actually made a bulletin on here before now?? Insanity. I thought I'd post my Artfight profile since everyone is doing it! 
I'm on Team Wither!
My art priorities right now are finishing up Chimereon customs first, and then revenging the people who attacked me last year - but I will try to get to who I can!! <3