Noche • 20 • F • Bisexual
Hi, I'm Noche. I'm an autistic, chronically-anxious woman with way too many OCs, and a notorious Lover of Worms, hence my like 40+ Stranger OCs. I'm also currently hard simping for Ruv.
Both my current icon and this profile's character image are official assets from Mid-Fight Masses, drawn by dokkidoodlez.
Notes about my profile...
I have a lot of OC universes but i've mostly been focusing on fancharacters lately. Of my OC universes my biggest passion project is Tales of Windsong, but the OCs I'm currently focusing on are in my Goodbye Strangers folder. My current special interests are ENA, Friday Night Funkin', and the ever-present Goodbye Strangers.
None of my OCs are for trade or sale unless they are in my adoptables/trade folder or its subfolders. Please do not offer on any of them! (Don't add them to dreamies folders either. I'll softblock you if you pull that, and I Will hardblock you if you keep doing it.)
If you're a "MAP" or "NOP" or "proship" or whatever the hell you want to call yourself, block me and don't even think about interacting with me, I don't want y'all nasty pedophiles anywhere near me or my content!
I have more notes in my starting folder, check those out if you may.
Latest Bulletin
---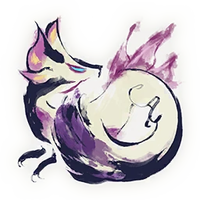 - My codes are made in the HTML editor and will (probably) not work as intended with WYSIWYG on. Please turn it off while using them. I cannot help you with coding issues if you have WYSIWYG on.
- Do not remove the credits section or change any credits unless a particular person's work is no longer present in the code, or unless something else needs to be credited (such as a background from a video game, for instance). Keep me credited, and keep other people whose work contributed to the code credited too.
- You can do whatever the heck you want editing-wise with my code as long as I'm credited. Frankensteining my code with other users' codes is OK as long as everyone is both okay with it and credited.
- Please do not redistribute my codes in any way (not right now, at least. I may change my mind on this later). You can use snippets of my code to learn how to use Bootstrap, but please make it clear that you've done so and do not edit my codes directly for redistribution.
- Comment on this bulletin (for now, once I make a forum thread I'll want you to comment there) telling me that you're using my code. (Please specify which one.)