19 ♦ f ♦ bi ♦ EVERYBODY WHALE
current special interest(s): ittle dew, bloons td6, lobotomy corp, my boyfriend (this might be out of date because i regularly forget to update it)
ask for my discord if you wanna chat!
current icon is official Lobotomy Corporation art
Links
Art Status
commissions open
trades open (pm me)
requests closed
Friends
Status
none of my OCs are for trade or sale unless they are in my adoptables/trade folder or its subfolders. please do not offer on any of them!
you can draw them whenever, but let me know!
feel free to @ me, but don't do it too frequently, it gets overwhelming!
refresh for a new chibi!
curious about who these are? these are characters from my personal favorites tag!
To-Do List
Salerj1219
Fullbody, shaded + background, two characters
Commission Info
Contact
want to commission me? my commission sheet is in this bulletin, including rules!
Rules
like i said above, my rules can be seen on my commission sheet above, but cliffnotes version:
good ref image, please! i need something fullbody and full-color to work with, preferably digital but traditional is fine if it's what you got.
please don't rush me, i go slower when i'm rushed! i usually go pretty quick but i'm very sorry if i take longer than usual!
don't claim the art as your own/edit off the watermark/whatever. if you need a raw version of the image (i send watermarked by default), ask me, but please don't be upset if i ask why you need it. i'm very nervous!
please send the money within 72 hrs of your rq being accepted! the purchase will be canceled otherwise. i can give extensions if you need them.
Listings
Design Info
main adopts @ luxidoptera.deviantart
basedoll adopts @ silvieskydancer.deviantart
Featured Characters
Latest Bulletin
---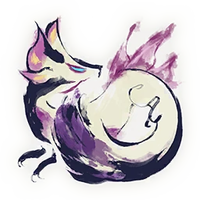 thinking about making new icons for my ocs and updating the chibi base because the chibi base is really old now and the person who discouraged me from using a predrawn base for my ocs' icons is long since out of my life, but simultaneously i know that if i do that it means i'm going to have to start from the bottom on updating my ocs' bios and chibis for like the umpteenth time now.
am i still going to do it?...probably.
Recent Characters & Designs
---