The contents of this Toyhouse profile are intended for mature audiences only. (Click to toggle additional info)
---
What's up, fuckers?! My work generally contains the following:
blood
violence
gore
strong language
weaponry & the use of weaponry
smoking & substance use (drugs, alcohol, etc.)
creepy & horror-related imagery
sexually suggestive material (nothing explicit unless otherwise specified)
leather pride/"fetish fashion"
In other words, expect sex, drugs, and rock 'n' roll.
In other other words, if this were a video game, it'd be rated M for Mature. It would also suck ass.
---
Additional notes:
All relevant pages will be tagged individually, and with additional tags when appropriate.
All NSFW pages and material will be age-restricted.
If there's anything in particular you want me to add warnings for, feel free to ask me privately, either through DMs on Toyhouse or Discord. My Discord username is freakie frankie#2817.
Snippet by Aurorean
My tapeworm tells me what to do
Frankie "misery" Maw
he/they/it/go × 21 × vampire
---
hi i still exist. still struggling w/ mental health. blah blah blah.
as for toyhouse-related stuff: i'm cleaning up my profile, making new codes, and making sure everything is still gross in a sexy way. hang in there baby!
: freakie frankie#2817
---
Latest Bulletin
---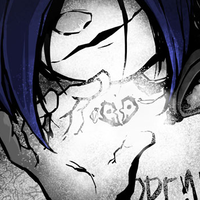 misery regrets to inform you...
i wanted to put my life updates all in one post, since i'm getting ready to actually post about my creative work soon (need to get some things in order first!) and i don't want to muddy the waters there.
life stuff
i went through a break-up last month, and that's been fucking with my head a lot. we were together two and a half years and i still love her. i don't know if i'll ever stop loving her.
at the risk of getting too personal and also melodramatic, suddenly splitting away from someone you built so much with together is like mourning and dying at the same time.
she was never very active on toyhou.se, but i do have some mutuals who are friends with her on discord. i don't mind if you keep talking to her, that's well within your right.
i don't really know what to do with myself at the moment besides create. hopefully in my art, i can find the answer.
in the meantime, i'm finally back on medications. i have stable access to a psychologist, and i'll probably be resuming therapy soon.
i'm anxious a lot, maybe even paranoid, and i anticipate involuntary hospitalization to happen sooner rather than later. if i go dark on discord, it's safe to assume that happened.
i do have some very close friends who are helping me through this, which i'm so grateful for. especially since they all have their own bullshit to deal with. they don't use this site, and they'll probably never read this, but i genuinely can't thank them enough for that.
TL;DR
shit hit the fan, dude. i just wish i had something funny to say about it.
art, writing, and coding updates hopefully soon. i'm sorry that i can't guarantee when.
fuck, shit, and other such expletives!
×× FRANKIE "MISERY" MAW 🕱⛧
until we meet again...