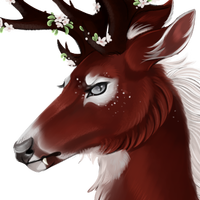 > Price changes, also added 'sketchy fullbody' as an option.
Basic Headshots - Painted headshot of character, can come with simple design elements free of charge. Headshot + Halo - Comes with additional simple background and wreath / accessories.
Sketchy Fullbody - Coloured and simple shaded piece of the character, though not fully refined. Rough sketch lines and rough colouring present.
Painted Fullbody - Finished, refined piece of character with full shading and detailing.
~
Rules & Conditions
-Prices are in USD $ but if preferred I'll convert to another currency, just ask!
-Payment through paypal, I'll dm you my email address after details are sorted.
-I'm happy to draw most feral & fantasy creatures, no humans or anthros.
-Art can be reposted with credit by the commission / character owner only, only they have the right to use it. Commissioner will get the transparent full-size image.
-I'll always ask if you want any edits before posting
-Complex characters are generally those with wings, extensive feathering, complex patterns or a generally difficult / time-consuming design. I'll always let you know this before you agree to a commission
-If you'd like additional characters on the one commission I'm happy to work out a discount.
-Feel free to note me here, on my DA or via my discord.