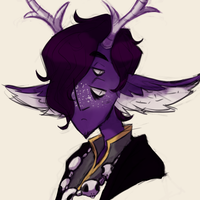 Profile
---
Name
Violet Cort
Aliases
Brother Cort, Vi, Violeto (OOC)
Age
32
Gender
Male (He/Him)
Orientation
Gay
Race
Stardasher
Occupation
Priest, Mycologist
Theme
About
Hermit • Goth • Local Cryptid
---
In the depths of the Mushroom Forest, where the nights are dark and the evergrowing fungi tower over intruders, foreigners claim to have met a strange creature, fast as a shadow and silent as the wind, clad in black, adornig itself with its victims' corpses. Locals just call him Violet.
Violet is a priest of the Spore, a branch of Raziel's church that venerates mushrooms, worms, and all beings involved in body decomposition. He's secluded to the depths of the Mushroom Forest to study its unique species and understand their role in the gods' plan. Most Dashers consider Violet a respectable member of society and see nothing wrong with his way of life, it just so happens that Dasher customs can be creepy as all hell to everyone else. But beneath all the little animal skulls and black clothing, he's just a nice dude with weird interests.
Likes
Mushrooms
Taxidermy
The smell of rotten meat
Dislikes
Snails
Bright places
Colors
"It's only natural to befriend those who will take care of our remains."
Summary
Violet took an interest in mushrooms and other fungi early in his life. He'd also shown a deep spiritual understanding, and it was no surprise for those who knew him when he took into the religious path.
Nowadays, he makes a living of the land, and the few donations he gets from offering funeral services to the locals, such as bone and gem retrieving, horn displays, and the occassional taxidermy commission.*
He moved into the Mushroom Forest when he turned 18, and hasn't been out ever since, save for the rare occassion where he needs to get supplies. That's to say, he's a little rusty on the ol' social skills, and all he knows is mushrooms, dead bodies, and religion, so conversations with him can get a little... dense.
*For pets AND loved ones! Final product varies depending on the state of decomposition of the specimen.
Design
• He's based on a viscid violet cort (Cortinarius iodes).
• His nails are se same color as his hooves.
• Clothing style is bohemian goth (or when in doubt, just bohemian but make every piece of clothing black).
• Small animal bones are his favorite accessory.
• Any resemblance to Johann Adventurezone is intentional so what.
Trivia
• He's very stealthy. Sometimes he appears behind people and scares the shit out of them, though he doesn'd do it on purpouse.
• He's very hard to anger (don't test it)
• Yes he smokes the mushrooms.
• In DnD he would be a Cleric of the Death Domain.
Links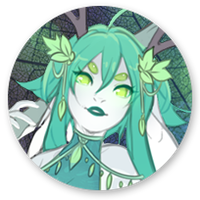 Cousin
Willow and Violet grew up together in their hometown in Whisperwoods, and have kept in contact throught the years. Nowadays, Violet is one of her suppliers for mushrooms and other poisonous herbs, while she sends him useful or interesting stuff from Ivoryhelm.
-
-
HTML by Eggy