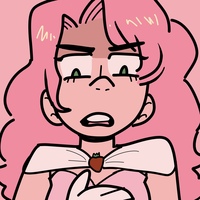 Profile
---
NAME: Berri
AGE: in her twenties
SPECIES: her original reference page says "who even knows"
BIRTHDAY: May 8th
PRONOUNS: She/her
SEXUALITY: Demiromantic Bisexual
HEIGHT: 5'7"
PERSONALITY: Practical, decisive, and kind of two faced. Very curt and blunt with her feelings. Has to reign herself in to appear better in front of people. A little bit of a bitch.
ADDITIONAL NOTES: Berri is queen of Sketchlandia. She is also the adopted sister of Bleu.
Berri is my oldest persona, originally created in 2014. She is now just some queen or whatever.