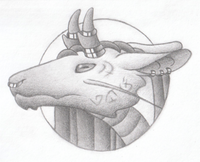 Profile
---
Personality
Logical, observant, cautious, impassive, aloof.
Appearance
Flight: Water
Primary: Robin Fade (Veilspun)
Secondary: Azure Constellation (Veilspun)
Tertiary: Teal Runes (Veilspun)
Eye Type: Water Goat
Length 0,76 m
Wingspan 1,09 m
Weight 0,67 kg
Life
Not much is known of the lives of Doom and Oblivion before they came to the Seafoam Clan aside from them being acquaintances of Naemi. When Naemi settled into living with the clan for an undetermined amount of time, she soon invited the two Veilspuns to work for her. They are her eyes and hands that see and reach to the outside world, fetching and delivering her messages and goods as well as gathering information from the general state of Sornieth. Out of the two Doom mostly works within and close to the clan's territory and she is an everyday sight among other clan members. However she makes it very clear that she only works for Naemi and not anyone else. She is generally rather cold towards the rest of the clan and only seems to truly like spending time with her mate Oblivion who she always greets with affection whenever he returns from his trips to faraway places. The pair seem to be extremely in tune with each other and even if not many have witnessed it and lived to tell the tale, the two form an extremely efficient hypnotization team that is far stronger than you'd expect from merely two Veilspuns.
Tidbits
About the character
Created in 2021.
Doom was the first ever Robin/Azure/Teal Veilspun on the site.
Original character info can be found here.