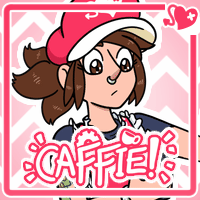 Basic Info
---
Personality 🎭

Stoic, Understanding & Imaginative

Occupation 💼

Café Waitress

Likes 💕

Robotics, Hardware Works & Kaiju Movies

Dislikes 🗑️

Finances, Dust & Printers
Profile
---

Caffie is a character of ours in Whipped And Steamy • Cosplay Café (Adults Only)! 
Looking for a way to pay expenses and help with her flat's rent, and after having failed to find jobs in areas of robotics and technology, Caffie took a job as a waitress and co-manager of the Whipped and Steamy Café, a café built for adult ero-cosplayers.

While she seems somewhat reserved and stoic, her friends and customers find her to be a person that's easy to talk to, being understanding about whatever topics they are attached to. Caffie finds enjoyment in trying to understand her customers, and despite not sharing the same interest, is glad to be able to be a good ear to them.

On her spare time away from the Whipped And Steamy Café, Caffie enjoys tinkering and studying small machines, robots and hardware as a hobby.

Even with her somewhat stoic personality, she is still able to have a very vivid imagination depending on the scenario, for example, believing that dragons existed during the medieval ages. She also enjoys kaiju movies which she frequently sees with her roommate. Given her situation, she dislikes finances, doesn't like when the café gets dusty, and can't deal with printers. Seriously, how often do those things not work according to plan?!