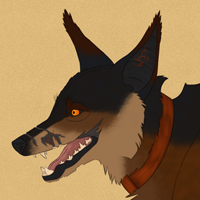 Basic Info
---
Pronounced

Vall-tee-varr Vull-tuh-ree

Sex/Gender

Female/"No Fucks Given"

Anatomy

Feral | California Valley coyote.
Profile
---
Genetics: Red with pale undersides, dark top, saddle, whitemark, orange eyes, fluffy fur.
Other info: Has barbed wires stuck in muzzle and left ear. Missing whiskers on right muzzle side. Cybernetic fingers.

First appearance: Not yet. | Last: N/A
Status: Unknown
Age: Adult / Unknown years
Born: 05 April
Interested in: Any/No preferences.

Family ties
Mother: Unknown
Father: Unknown
Siblings: Filion, Namur, Bauch
Love: Unknown
Offspring: Unknown

District: Unknown
Role: Unknown


About
To be revealed.