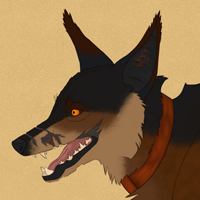 Basic Info
---
Pronounced

Vall-tee-varr Vull-tuh-ree

Sex/Gender

Female/Agender | Any pronouns

Species

Dyre (Rufus subspecies)

Anatomy

Feral | California Valley coyote.

Age

Adult, 8 annums | 05 Therris 3556

Interested in

Any/No preferences.
Profile
---
View refs here.
Genetics: Red sable with urajiro, white spotting, mane, orange eyes, fluffy fur. | Other info: Has barbed wires stuck in muzzle and left ear. Missing whiskers on right muzzle side. Cybernetic fingers.

About
To be revealed.