Profile
---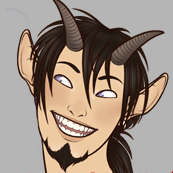 Personality
---
Arsast is a mischievous, high-energy little imp of a man. He hates being serious and loves being promiscuous, and has a bit of a short attention span. Despite his goofiness, he's actually quite clever and a quick learner. It's nearly impossible to find him in a bad mood.
Pronunciation ars - AHST
Pronouns He/Him
Race Satyr
Class Rogue
Subclass Arcane Trickster
Age 18
Height 4'10"
Do Draw Them
---
-

In any outfit (existing or otherwise) that suits him

-
Notes
---
Arsast is only 4'10, with an olive complexion and brown and black fur. His hair is black and just long enough to pull into a short ponytail, with choppy bangs that hang in his face. He has lilac eyes, with off-grey/brown horns and cloven hooves, and wide, horizontal, goat-like ears. He has a short-goat like tail and a simple goatee for facial hair, and he wears simple clothing such as harem-esque pants and an open vest for a top, usually with a theme of green through his attire. Almost never looks serious, usually wearing a big shitkid troublemaking grin from ear to ear.
Links
---
RELATIONSHIPS
---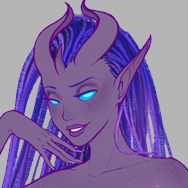 The other pea in his pod, his partner in crime, his bestest friend.
Owner: Dakota - I host my bestie's characters on this account with his permission; I love seeing art of them, too!
---