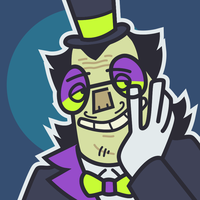 Profile
---
Bill Glorpy
PROFILE
Biography
---
Bill Glorpy is the star of his own little travelling stage act. Little does anyone know, he's not just a petty conman, he is actually using PSYCHIC POWERS!! Bill specializes in Confusion, specifically hypnosis, and uses it to convince his crowds that he is putting on a most-certainly-real magic show. The Psychonauts were sent to detain him after a most horrific hopefully-accidental Incident, but Ford Cruller takes a weird pity towards him, and reforming Bill becomes Ford's personal project. Does it go anywhere? Who knows!
As a probationary Psychonaut, Bill takes surprisingly fast to a job as a hypnotherapist. The patients that "click" with him absolutely adore him - every session is its own emotionally-exhausting theatrical performance, he has an incredible knack for uncovering other people's suppressed emotions, and he even has a supply of supportive stickers he hands out. It's all a bit childish.
In his personal life, Bill is tenacious, socially anxious, private, and stubborn. He tends to keep to himself, and does not readily surrender personal information. Outside of his main "jobs", he has picked up a hobby of computer programming, which he is using for God-knows-what.
Likes
---
Modern (for the time) technology, especially computers
Little plastic knick-knacks
Peer recognition! Peer approval!
Bacon pancakes
Dislikes
---
Physical affection
Loud sounds
Insincerity
Playlist
---
Teddy Hyde - Channel 01 Clown
Ben Folds Five - Best Imitation Of Myself
Rob Cantor - I'm Gonna Win
Tom Cardy - Flirt (with your Dad)