Profile
---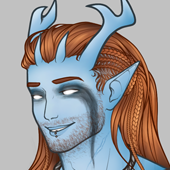 Personality
---
Nils is a carefree man with a deep capacity for boyish antics, and a strong protective spirit for those he loves. His goofiness has been quieted slightly in recent years due to the tragedies he's endured, but he does his best to choose happiness wherever possible.
Pronunciation NIHLLS
Pronouns He/Him
Race Feral Tiefling
Class Fighter
Subclass Champion
Age 29
Height 6'1"
Do Draw Them
---
Happy/goofy/calm/loving/melancholic/etc.

In any outfit (existing or otherwise) that suits him (viking aesthetic, preferably)

With a slight kink towards the end of his tail where it was once broken

With his scars: a slit along one side of his neck over his jugular, a small horizontal scar across his nose where it was once broken, and several jagged lines over his left hand where he once narrowly escaped a drake's bite

With his lip piercing
Don't Draw Them
---
Without his torc; it's his wedding band and is incapable of being removed

Without his warpaint; it has become stained on his skin and cannot come off

Without the tattoos on his right hand; they're tattoos, they don't come off either
Notes
---
Nils is a tall, broad man with a complexion like kyanite and hair like shining copper. His eyes are white with the faintest glow to them and no pupils, surrounded in slightly messy black warpaint that has become stained on his skin. His lower lip is pierced with a small iron ring--and if his shirt is removed, it's evident that his nipples are pierced as well. His tail has three spines towards its tip, with a slight kink in his tail where it was once broken in a fight. His nose, likewise, has the shape of one that was once broken, too. His facial hair is usually kept to scruffy stubble, and his hair is often kept in various braids.
(Some lore!)
Links
---
Owner: Dakota - I host my bestie's characters on this account with his permission; I love seeing art of them, too!
---