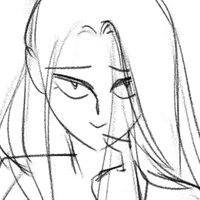 Profile
---
Age: It's very rude to ask a lady her age but if you must know, she's dead.
Pronouns: She/Her
Height: Always floating over your head to assert dominance
Sexuality: Bisexual
Wait Hang On Is She A Ghost?: Functionally yes, technically no.

Personality:
• Mean, sarcastic, petty, and vengeful.
• Does not do vulnerability, but is probably also very sad.
• Seems compelled to at least try to be helpful, despite everything.
• In life, she was very ambitious. In her current state, she's mostly embraced apathy just to cope.
• Horny. Can't really do anything about it. Very frustrated.
Skills & Strengths:
• Speed reader and info sponge. Her research paper process was cracking open books at the library, reading what she needed while standing next to the shelf, taking minimal notes and then writing the actual paper somewhere with more background noise. She's never carried a heavy bag of books in her life.
Weaknesses:
• Possessive and jealous in both platonic and romantic relationships.
• Uses her personal tragedy as an excuse for all her worst behavior.
A Lil Taste Of Backstory:
She was very sure she wanted to grow up and marry Sykes. She ended up in a different sort of union with him.


| | Opinions of other characters |
| --- | --- |
| Sykes | Literally can't get away from him. Ugh. |
| Kell | Ew. |
| Carson | He can stay. |
| Maddie | She can stay. |
| Petra | Untrustworthy, but definitely hot. |
| Naomi | She's a weird kid, but she kept the Host Body alive and is therefore owed a debt of gratitude. |
| Ryfka | Very interesting. |