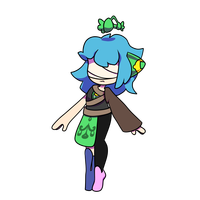 Created

2 months, 20 days ago

Creator

Favorites
Profile
---
Adoptable Information
This Reversed Justice Suikana covers her eyes so she can't see what's going on - and this is entirely a choice on her part.  She does not want to see what's happening, so she can just say she didn't do anything because she didn't know.  She also wears mismatched clothing - perhaps as a Justice Suikana this means that she isn't an agent of justice like a standard Justice Suikana would be.
---
Traits
Honored Suikana (Rare)
One Horn (Rare)
Chest Symbol (Common)
Standard Element (Common) [Air]
Standard Color (Common)
---
Adoptable Information
SB is $25
MI is $5
AB is $100
Auction ends 24 hours after final bid
This adoptable requires an account on EvoCrit.
This adoptable can be used in the Suikana ARPG world.
This character will come with a full profile on EvoCrit.
To purchase this adoptable, bid on the page with your EvoCrit username and in reply to the last bid (if there is one).
Payment will be facilitated through Square Invoice, Stripe Invoice, or PayPal Invoice.
TOS and ARPG information is available through the "Ownership" section.