---
He seems pretty level headed. It would do Kaz good to spend more time around him.
---
...he's pretty good. Kinda angry, but he's cute. I'd drink with him. ... Maybe not wine though.
---
Owain? Um. R-Right. He. Um. He's. He's a good guy. S-smart. Good head on his shoulders. Good to have around. Ya. Real good. And strong! Real. Strong. Good grip. Good.... nice arms. ... -ahem-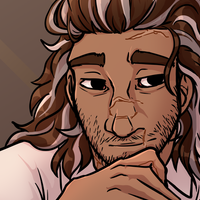 ---
Owain has always had some sort of one up on me since the day I met him. Our younger years were more obviously competitive, and while he's humble about it now, I'm still very aware of how competent he is compared to my mess of a life. I'm in awe of it... I wish he'd look after me, honestly...