Basic Info
---
Powers

control of toxins (including insanity) and affinity to snakes
Profile
---
Basics
---
| | |
| --- | --- |
| Name | Saskia Saphronia (Toxin) |
| Age | Generally looks ~15 (is older than earth) |
| Gender | Assumes female form |
| Species | Ancient Demonic |
| Role | Antagonist/Protagonis |
| Theme | link a song |
Stats
---
| | |
| --- | --- |
| Charisma | |
| Kindness | |
| Empathy | |
| Insanity | |
| Intellect | |
| Humour | |
Looks
---
| | |
| --- | --- |
| Height | Average |
| Build | thin, box-like |
| Eyes | Brown (human), Yellow (demonic) |
| Skin | Pale |
| Hair | Blond (human), Green + purple (demonic) |
| Appeal | Tomboy |
About
---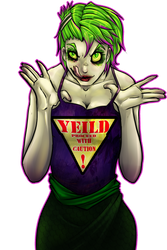 Absolute monster of a person. The personification of venom and insanity, she hurts people for her amusement, cannot understand human emotions well, and easily becomes bored. She can pick out the weaknesses of those around her using her optometrist glasses and exploits them for her amusement. She particularly enjoys picking on Johnny. Her soul has been born into Avira so Saskia takes the form and high school girl to protect/wait around until she can rebond with her soul. Enemy of Lilith, friend of Avira, crush of Kito (does not share his feelings), torturer of Johnny.
Likes
---
Warmth
Snakes
Tricking People
Napping
Dislikes
---
Cold
Killian
Lilith
Having to Work
Extra
---
Glasses can be adjusted to see mental weaknesses of prey
Sexual Asexual
lacks empathy for human emotions
posessive of people she deems "hers"