Profile
---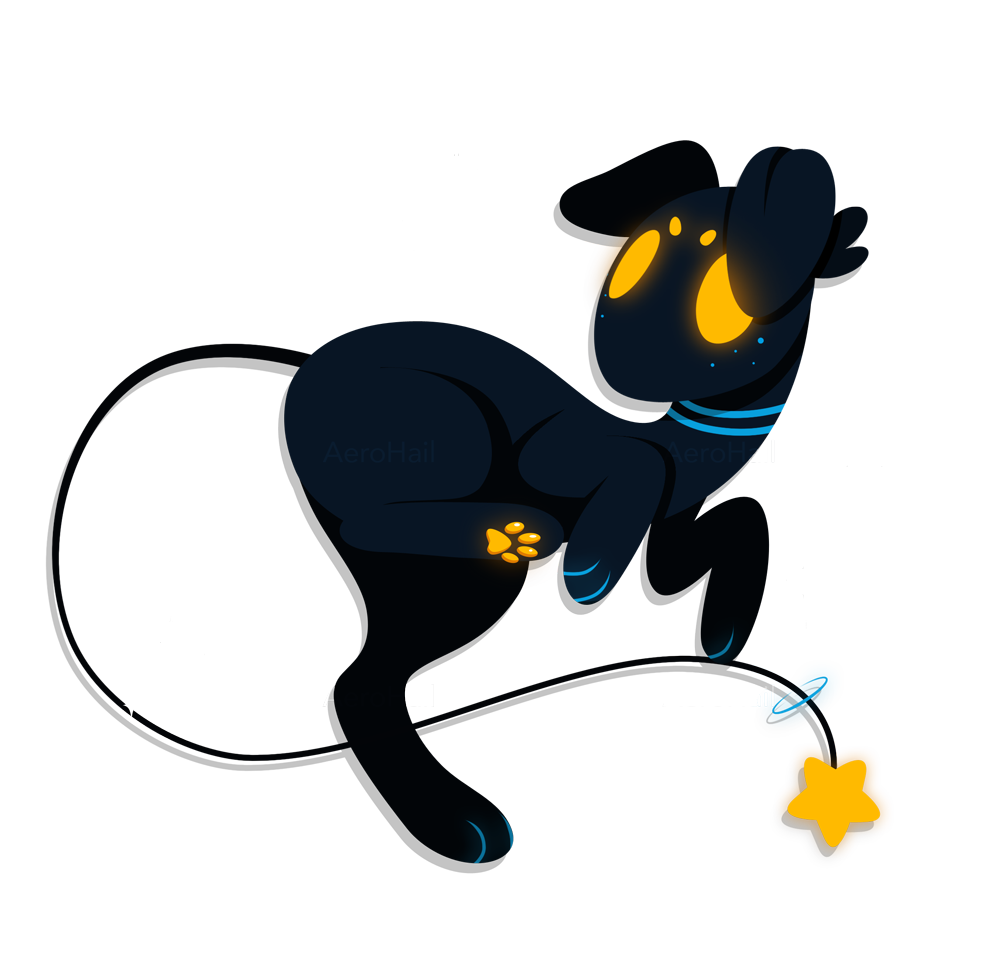 Void
??? ✦ She/Her/Hers ✦ Excited Cinnamon Roll
SQUEAK
About
Void is a very excitable Night Fright. She is overly playful and I'm not entirely sure she knows how to be a) still or b) serious.
● It is thought she can understand various languages but gets too excited and accidentally ignores people when they are talking to them. Or gets distracted.
● She squeaks.
● If you have ever watched Jenna Marbles, Void is basically her dog Peach personality wise.
Appearance
She has a dark blue coat of very short fine fur with glowing stripes and freckles. 
Her ears are flopped over.
Her 4 eyes glow yellow gold and her long tail whips around excitedly when she is bouncing around. She has yellow pawpads and a yellow tongue. She has retractile claws and the lines between her toes are blue.
Everyone
Toys
Large Open Spaces
Running
Eating
Being Ignored
Having to Keep Still.
Being quiet.
Loud sudden noises
Not being able to catch her tail.
Backstory
Void has existed for a few years, travelling the universe at her own amusement, making friends where ever she seems to go. People seem to not realise she's a fully sentient being because she acts more like a puppy but she enjoys the attention none the less.
Void likes Haze very much! He's very good at throwing her toys for her to fetch!
Haze has encountered Void a few times whilst travelling with Doodlebop. He likes how happy she is but gets worn out after a while. Void just never seems to rest!
Smol space dog friend! Void likes to play with her antennae and lick her face lots!
Doodlebop is generally exasperated at Void. Despite being a dog like creature her self, Void is just too much dog for her to deal with.
CAT FRIEND! Must chase! Must befriend!
Illuminyati goes out their way to avoid Void whenever they meet.
profile html by Hukiolukio