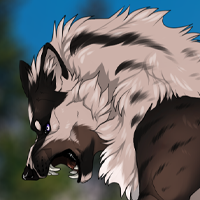 Basic Info
---
Pronounced

Wiss-teh-ree-ah Fah-bah-ce-ah

Anatomy

Semi-Anthro, on the feral side. | Mexican gray wolf

First appearance / Status

Not yet.
Profile
---
Bought from @BecauseICan. Designed by RebelliousPotato.

Genetics: Engineered coat with lilac eyes. | Other info: Unknown

Mother: Unknown | Father: Unknown | Siblings: Unknown | Love: Unknown | Offspring: Dasher

About
To be revealed.