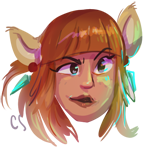 Profile
---
Freya
About
Freya is an intergallactic traveller that goes where the cool stuff is. She's a trader that is always looking for her next big score to turn around and sell for cash. You might see her over on Shantyland quite often as she loves to muck around the swamps looking for some hidden treasures among the intense wildlife.She's usually pretty stand offish and doesnt make friends easily, but when she does consider someone a friend she is loyal til the end and will do anything for them.
Freya was abandoned in the woods as a baby and has no idea who her biological parents are. There she was raised by a quaint family of assassin Servals who taught her everything she knows. Her mom, Milou, is a strong assassin and jewlery collector. Freya often returns to her home planet of Nixid to bring her mom some of the treaures she finds.
"Risk comes from not knowing what you're doing"