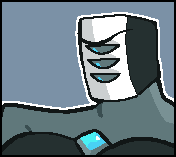 Profile
---
Color chart
+ Hair;
+ Skin;
+ markings;
Worth: 0
- SHapeShifter -
The perfect life form, considered to be pure, Hank fooled them all. After breaking free from the grasps of scientists, Hank fled the scene taking shape into different beings. Most commonly a larger life form with three eyes, colored in white, grey, blue and silver.

Hank was fooled into a trap by a gang, causing him to fall into the justice system and fall into jail on a distance planet. Something changed in his character that day. He managed to break free from his cell and left behind a burning galactic prison. Hank became an unstable force.

He returned to the former planet of his arrest, Hank slaughtered the gang one by one. Until he got to the leader, and skinned him alive. Hank stole the leaders most valuable possession, a torture chamber ship by the name of White Silver. His mark left a deep scar in the solar system he currently travels. And anyone who comes in his way will be met with brute, horrible, force.

That is, if someone dared to try something on him first.