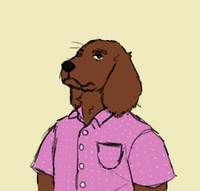 Profile
---
Colby met Maxwell during secondary school, and at 13 got a crush on him. After a while of pining for Max, he found someone on tumblr who he started dating when he was 15. 
After that relationship ended when he was 16 he became heart broken and depressed, so he ended up as more of an outcast in class.
At 17 Max asked him out on a date to a coffee shop, and from there they both got to know each other as well as started dating. At 18 he met Richie in his class, and the two became good friends, introducing Richie to Maxwell.
At 20 the two moved in together, and at 22 they got happily married. Colby's working on his music career, which started taking off at 21.