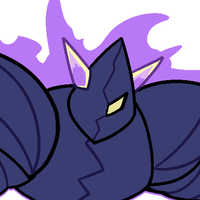 Basic Info
---
Relationships

Proper (creator), Prim (ward)
Profile
---
"Macbeth The Breaker" is a dark crystal given life by the powerful Sorceress Proper. It's clad in armor that can hardly contain the terrible might of its true form. This living armor is powered by magic stones that were taken from the sorceress' arm. It is completely loyal to its creators and ready to crush any and all opposition they may have.
While Sorceress Proper brought it to life under the pretense of being her bodyguard, Macbeth's true primary purpose is to babysit its creator's little sister, Prim. Prim treats Macbeth similarly to a little brother and often orders him to carry her around when she is feeling lazy.
Macbeth has two forms:
In its first form, it resembles a bulky armored humanoid. This Macbeth's usual appearance.
Macbeth's second form is only shown during intense battles; the armor starts to open up and magic gems expand outwards from between the metal plates, stretching out the armor to a monstrous form.
This character was designed by Oolongearlgrey.