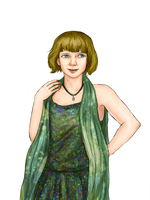 Profile
---
✦ About
Lina is Sam's friend and is a pursuable love interest for him.
Lina was born to a wealthy family that's lived in the United States for hundreds of years. She comes from what many would call "Old Money," and as befitting someone from her social class, was sent to a finishing school for young ladies of "good breeding."
However, contrary to her parents' expectations, she did not enjoy going to the finishing school. At the age of 19, she was already sick of the shallow, hypocritical society into which she was born. Many people of her social milieu, in her experience, had little drive to succeed in life and had no clue what they wanted in life.
She loves how Sam thinks outside of the box and encourages him to rebel against his parents. She hopes that she and Sam can break free of societal expectations together. 
Her relationship with Sam is covered in more detail in our entry for the 2020 Webtoon Short Story Contest, "Finding Sam". 
Read more about Lina Williams on our website: https://www.fortunusgames.com/post/lina-williams
✦ Appearance
Lina is around 165 cm tall. 
✦ Likes
Parties and organizing events
Meeting new people, especially artistic types
Fashion design and interior design
People who stand out from the crowd and are charismatic
✦ Dislikes
People who have no passion or drive
People who have no manners
People who want to force her to follow certain standards without considering what she wants
Abusive, superficial, people
✦ Relationships
| | |
| --- | --- |
| Sam Abramov | Potential love interest. She likes Sam because he's an iconoclast who does what he wants and won't let society define who he is. |
| Frankie Amato | Friend. Sam introduces her to Frankie at a party. She and Frankie enjoy talking about the food scene in New York City. |
| | |
✦ Trivia
● Her parents want her to marry well and marry "up," but she has plans of her own.

● She likes excitement perhaps a little too much.
● Although she appears positive and cheerful, there is a darker, angrier side to her that she mostly suppresses. 
● She is open to trying all kinds of food, even the kind that Frankie would deem "bad" - so she is fine with Feingold's!
profile html by Hukiolukio