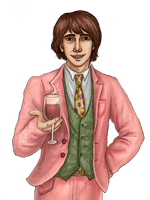 Profile
---
✦ Basics
| | |
| --- | --- |
| Name | Samuel Abramov |
| Gender | Male |
| Age | 19-20 in 1921 |
| Ethnicity | Ashkenazi Jewish (with roots in Belarus and Ukraine) |
| Occupation | Law Student in 1920-1924; then, may become a film director, actor, lawyer, or legal assistant depending on his choices |
| Sexuality | Bisexual |
✦ About
Born on April 6, 1901 in the Lower East Side of New York City, Sam grew up in the shadow of his domineering parents, who had immigrated in the late 1890s from Odessa, Ukraine (then a part of the Russian Empire).
Cheerful, mischievous, and blessed with the gift of gab, Sam grows up idolizing Vaudeville and Yiddish theatre. 
A bright student, he is eventually accepted into Ambrose College, a prestigious New York law school, where for the first time in his life, he feels like a fish out of water. 
Sam must eventually decide whether to become a lawyer, an actor, or something else...
Links to our graphic novels about Sam are on this page. Our main project currently is the graphic novel version of "Sam in New York."
Throughout the course of the visual novel, Sam can also pursue various love interests and friendships, which can deeply influence his career choices (and vice versa, to some extent).
Read more about Sam here on our website: https://www.fortunusgames.com/post/sam-abramov
✦ Appearance
Sam stands at 170 cm tall and is, at 19 years old, "skinny-fat" due to not exercising and overeating. 
✦ Likes
Acting, the theatre, moving pictures/films
Fighting to maintain his Yiddish culture and language in face of American assimilation
Writing, debate, meeting new people
Urban exploration
✦ Dislikes
Being told that something's "for his own good"
Being coerced to follow the majority even though he doesn't agree with the idea
Strict, controlling, demanding, conservative people
Law school
✦ Relationships
| | |
| --- | --- |
| Lev Abramov | Sam's strict and demanding father. He wants to live vicariously through Sam and pushes him to be a lawyer. |
| Raisa Abramova | Sam's strict and over-concerned mother. She can be quite hovering and over-protective, although she ultimately just wants Sam to be happy.  |
| | |
✦ Trivia
● Sam is actually not as cheerful as he appears initially. He feels that he has to be more cheerful than he actually is so he can stand out and get more people to support his acting career, or what he hopes will be his acting career. 
● Sam sees acting as a way of understanding not only himself better, but also human nature in general. 
● Sam was actually a quiet kid growing up. He changed his personality for his own sake - he wanted to be able to stand out and become the actor he's always felt like he's wanted to be. 
● Sam enjoys going to speakeasies not only to meet like-minded people (who are artistically inclined), but also to spite his parents' and professors' conservative views about parties and drinking.
profile html by Hukiolukio