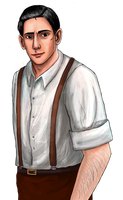 Francesco (Frankie) Amato
Profile
---
✦ About
Frankie is one of Sam's best friends and also a potential love interest for him.
Francesco "Frankie" Daniele Amato was born to Sicilian immigrant parents who own a grocery and café. 
His parents were originally from a small town 2 hours away from Palermo, Sicily.
Frankie and Sam first met when they were 11 years old. Frankie is one of Sam's best friends throughout the 1910s and 1920s and in the "Frankie" route of the visual novel, he can be Sam's love interest if you choose to pursue him.
Frankie is the kind of person who keeps a lot of things to himself, since he does not want to be a burden to others. 
In the "Frankie" route of the visual novel, he eventually opens up to Sam once they grow closer. As it turns out, Frankie has long had a soft spot for Sam, considering him one of the kindest people he's ever met (and the world Frankie's accustomed to is indeed a cruel one..).
In contrast to the talkative, idealistic, naïve, energetic and mischievous Sam, Frankie is pragmatic, serious, and street-smart. He plans to take over his father's restaurant, Amato's, once his father retires. 
Read more about Frankie Amato here on our website: https://www.fortunusgames.com/post/frankie-amato
✦ Appearance
Frankie is around 170 cm tall and he stands up very straight. 
✦ Likes
Good food - and making food 
Going for long walks and exploring the city
Spending quality time with loved ones
Baseball
✦ Dislikes
Horrible food - he thinks Feingold's is terrible! (no offence to Sam)
People who are nosy and stick their noses into other people's business
People who bully the weak or different, and take advantage of the innocent
People who over-politicize everything (like Joel sometimes does)
✦ Relationships
| | |
| --- | --- |
| Sam Abramov | Frankie's best friend. He's had a crush on him since they were both 13. |
| Joel Farber | A high school friend of Sam and Frankie. Frankie never got along that well with him. |
| | |
✦ Trivia
● Frankie never expected Sam to like him back (in the route that Sam chooses Frankie as his love interest), since he thought Sam was 100% straight 
●  Frankie doesn't quite understand Sam's love for the theatre, but wants to learn more about it. He wonders how it'd be like to be motivated by such a strong passion for something. 
●  Frankie is very protective of his younger siblings, since he's the older sibling
● Frankie has a large family - the largest family out of all the characters
profile html by Hukiolukio