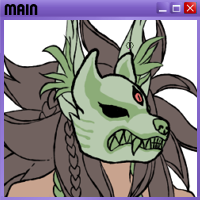 Profile
---
Sadao-no-mitama-no-ōkami
"..."
Silent | Gentle | Loyal
About
When you don't know your birth parents but were found and raised by someone else...your life didn't look too bad but the wheels of fate run slow and you won't be able to escape your origins.
Doesn't remember much besides always having fight for your life yet it didn't break you.
Life has more in store than just a calm and unimportant existence...but what road to choose? What person to follow or believe in? No one but you can decide the life you are going to live. Regrets? Doubts? There's no time for any of that. You need to proudly choose what to do and how to act. What to sacrifice...what to keep safe...