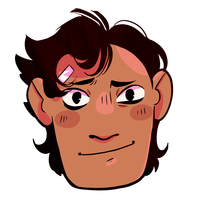 Profile
---
Peace, Innocence, Patience, Wisdom
---
 "I don't want to hurt anyone." 
Anyone can be set on the right path. When Montbars woke up in the water missing their memories and right arm, they set out find a righteous path for themself. It wasn't as if they had no idea who they were - on their person they found a plethora of evidence that they were once an indisputably violent, chaotic person. They were a devout worshipper of an evil god, and did whatever it took to shape the world in their own cruel image. It earned them fearful respect on the streets...but it also earned them the whole missing-arm-thing. So, they sought out a fresh start.
Unfortunately, the thing about serving an evil god and getting lost in the sauce for your entire life is that inherent goodness doesn't happen over night. It takes a whole lot of meditating, habit-forming and general patience with a bunch of people Monty would've definitely killed on a bad day. They're trying. And they haven't killed anyone yet, so maybe it's going okay.
Details
---
Likes
Hand-woven Patterns
Hot Chocolate
Meditative Passtimes
Second Chances
Dislikes
Sitting Idle
Water
Tiny, Breakable Things
Being Small
Personality
---
Idealistic
Montbars has committed themself to four tenets: Peace, Innocence, Patience and Wisdom. They seek to remain nonviolent, to live up to the chance they've been given as well as provide that same chance to others, to remain patient as changes unforld around them and within them, and to allow themself time to process their failures so as to maintain the aforementioned rules. They sometimes follow these points blindly, and have little idea of what to do when they conflict with the events occurring around them. They fear having to protect themself should the need arise.
Inexperienced
Montbars has cultivated very few relationships, and while they are by no means a child, they have very little experience in social and romantic matters. They frequently rely on their cohorts to enlighten them and guide them through matters of the heart (to sometimes troubling effect). When it comes to discussion of these same matters, they often miss the other's meaning, and have yet to grasp the concepts of many an emotion. The definition of love still evades them.
Hot-Headed
The remnants of their old worship still haunt them in the form of easily rising anger at even the slightest inconvenience. They suffer from a constant background need for violence and wrath which they cannot act upon. Over time, they have learned to take insults and jibes with less ferocity, but still often lose themself in bar confrontations, combat situations and the odd argument. Their anger is, to them, a beast on a short leash which they still struggle to maintain.
Meditative
When you previously occupied most of your time by bringing pain upon the masses, you come out of it with very few hobbies. As a result, Montbars meditates frequently, committing most of the free moments in their day to sitting and reflecting on what they might do to improve themself. They benefit from constant thought on morals and ethics, but still have a long way to go in terms of applying their ideas to in-person acts of diplomacy.
Suspicious
Having known the many evils of the world, Montbars is wary of them rearing their ugly heads. They pay careful attention to the actions of those unfamiliar to them, and seek to spot a danger before it might arise. This is for their own safety, as well as for those they see as weaker than them. However, this also makes it somewhat hard for them to grow close to others; they worry about being harmed, as all they knew previously was harm, and now that they have sworn themself to pacifism, they are unsure how they might fight back.
Detail-Oriented
They may look like (and often act like) someone who thinks with their fist alone, but Montbars is actually a very detail-oriented person. They often take notes and work out their thoughts through text, and they are not averse to a good amount of reading and discussion. Though these abilities are channeled the strongest in servitude to horrible higher powers, Monty is learning to use them to navigate difficult scenario and find solutions for the ailments of their friends and allies.
Aesthetic
---
Summary
---
Who They Were
Montbars was once the active acolyte of the Chained Oblivion, seeking to do Its will through countless acts of violence and harm. They were firmly lost in the fog of the chaotic god's madness, and knew no value for any living thing, themself included. They did work for criminal organizations and sought nothing but the destruction of the mortal plane - however, it was their own committment to chaos that would eventually lead to their downfall. Incapable of following any careful criminal's plan, their last mission repaid them in heavy injury, mistakes aplenty that would cost them their standing, their right arm, and even their memories.
Adrift
Cut loose from their criminal ties and from the madness they once new, Montbars was given a second chance. After taking a blow to the head, they knew nothing of who they were aside from what the ravings in their journal revealed. They had only survived it all through what they believe to be the mercy of a stranger: someone who took them in, bandaged them up, and whose face they cannot remember. Because of this, they have vowed to improve themself, to live by tenets of pacifism and patience.
Every day is difficult, and Montbars constantly fears the resurfacing of memories they know will lead them to the madness again. The most they can do now is practice meditation and learn to care deeply about the lives of those who have given them a second chance. Their violent tendencies still writhe in the back of their mind, but they know they cannot act on them. They must be patient and move forward.
What They Do Not Know
Although their memory loss took with it many negative associations, Montbars is still not privy to many a crucial aspect of their identity. They believe themself to be skilled in disguise magic, but are in reality a changeling; the face they wear is of a man they have killed, and they do not yet know it. Their missing arm deprives them of a seamless change that once gave them high value in the criminal circuit. They also have no memory of their home or their family. Their mother, a drow terrified of the darkness and what lay in it, remains a distant figment to them, missing both in their mind and in their life. Whether or not any of these pieces of Montbars come back together remains to be see, as Montbars' anxiety regarding their past prevents them from seeking their memories out.
[ Emotional Support Clown ] 
Enemies to lovers, but instead of being lovers they are siblings who bully other people outside of their exclusive two-person clique. Monty feels more comfortable expressing themself with Basket than anyone else, knowing that Basket also has a troubled past. They would die for this silly little clown.
[ Giver of Chances ] 
The crewmate they respect above all others. Carp gave them a chance and they consider them their first (if not only?) role-model.
[ Person They Kiss ] 
Sometimes you and the ship's cook both have a complicated relationship with a chaotic god and problems with having two arms and sometimes that means you kiss a little bit and share in each other's company...
HTML by Eggy