☙ Aermerea Haven ❧
---
Bloompuffs ✱ Amorapuffs ✱ Vaniwisps ✱ Cherishes ✱ Florions ✱ Ceros✱ Teamereans
WELCOME!! PLEASE MAKE SURE YOU VISIT/JOIN OUR TOYHOU.SE WORLD:
https://toyhou.se/~world/33766.aermerea-sanctuary
This is a combined account for the creators of all the Aermerea Species, including Cherishes, Vaniwisps, Bloompuffs, Amorapuffs, Ceros, Teamereans, as well as crosses and pets thereof. This account should be credited as
Creator
of these species, so please be sure to do so!
After designating this account as the
Creator
of your Aermerean, you then credit the artist who drew it as the
Designer
(if its a collab, all collaborators involved would be considered Designers). You can find the functionality to designate Creators and Designers in your character's
Ownership
tab.
Our full Masterlist is located on DeviantART, and but all reporting of your sales, trades, and gifts should be reported to the AermereaHaven account:
https://www.deviantart.com/aermereahaven
Latest Bulletin
---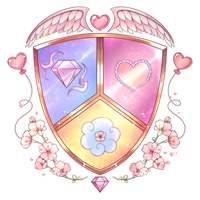 !THIS BULLETIN IS SUBJECT TO CHANGE BETWEEN MYO EVENTS FOR CLARITY!
__________________________________________________________________________________________________________________________________________
!!CURRENT MYO EVENT!!
For the current FREE MYO EVENT (June 16th 2021 - August 1st 2021) only Very Rare and under are allowed for each species.
Unless you are a server supporter or server staff member and have the special code to get a rarity upgrade
Mutations will be available for sale for pecunia petals and money in the Pecunia Shoppe in server.
(If you are not in the server please dm this account to buy any mutations!)

How to turn in your MYO
If you are in discord submit to discord
if you don't have discord submit here via dm
Click here for forms for each species.
Click Here to Track MYO Event Tickets
_____________________________________________________________________________________________
Recent Characters & Designs
---