Briannakitty
---
---
Brianna/Harli ☆★ She/They ☆★ Local Nya
Hey there! My name's Brianna/Harli and I'm a pan cat with lots of love to give. I am generally pretty friendly and try my best to be welcoming and understanding of others around me. Feel free to say hello, I love making friends and I won't bite. I've got anxiety I'm not very good at speaking with people, so my apologies in advance!  
Please feel free to ask me about my characters, writing, designs, or anything else at any time. I love answering questions and helping folks out!
---
Latest Bulletin
---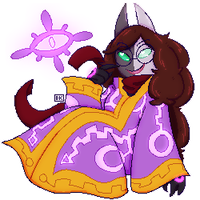 eyy what up homies
So I decided to make a discord for my art and people are invited! Everyone! Woo!! You can join here! Excited to get to talk with everyone!
you can also find me on....
Patreon, Twitter, Deviantart and elsewhere!!
Recent Characters & Designs
---