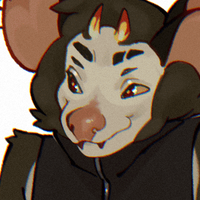 Skylar Bea
24 . Any Pronouns . Sleepy
Links
---
About Me
Hello! You can call me Nova, Bea, or Sky. I'm just an amatuer artist who loves to doodle, write stories, reads, and thinks up worlds and such for characters! I'm real shy, quiet, sleepy, and generally try to be a nice person. I don't ever upload my art unless it's a gift, a commission, a trade, or if I'm super proud of the piece. I'm not a fan of my art but lord knows that doesn't stop me from drawing or writing. So even if my characters don't seem like they have any art, believe me I draw them at least once! If you're interested in a character and they don't have art on here, you can ask if I've drawn them and if you'd like to see the piece!! I definitely don't mind showing them...
Notice
You can offer on anyone but, Please be mindful of the descriptions in each folder! My Main Sonas are completely off limits!
I don't mind being asked to be put on a Pinglist
If I have a character of yours in one of my Dreamy Folders & you don't want it there, please let me know!
Latest Bulletin
---

Still looking at money/trade/vouchers on whole TH! I'm still in a funk and would like to clear out some OCs