*Im trying to sell everyone!!!*
All of my characters are for sale except Flameclaw, it doesn't matter if I'm making art of them or not. If any one of them interests you, feel free to make an offer of PayPal, points, or other characters if it's a good deal or whatever. I'll trade multiple characters for one better quality one, my goal is just to eventually get rid of all of them. Please don't expect me to keep any characters I trade for, but I may draw them some as they come and go.
Latest Bulletin
---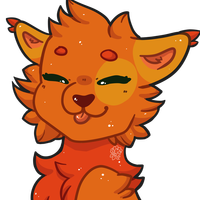 I'm feeling nostalgic and I wanna post some stuff to DA for some advertisement of my character purge, so I'll be taking requests. I can't promise I'll do all of them or that they'll look particularly good, since I haven't done this in a while. But just comment or dm me whatever you want and I'll look at it.
Recent Characters & Designs
---