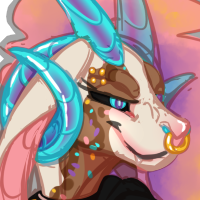 Jifi-Dawg
24
Demigirl
She/They
Friends
---
About Me 
---
Hello and welcome to my Toyhou.se profile! This is where I keep all my lovely kiddos, as well as develop them and their worlds. Feel free to look at them and give them some attention, but please don't take them, I love them! As for myself, I'm just a smol artist with the heart of a child and a passion for storytelling. Some of my favorite things are animals (especially dinosaurs, reptiles, hyenas, and bovids), science, fantasy, Elder Scrolls, Pokemon, Disney movies, and bright colorful designs.

Interests
---
Dinosaurs
Character design
Science
Gaming
Nighttime
Hot weather
Avocados
Mornings
Peanut Butter
Religion
Notice
---
Please do not draw my OCs without my consent. Gift/fan art is fine tho <3
Nothing is for offers unless it is in Sale/Trade or Tertiary! Anything tagged NFT is off limits!
Do not use my Art/ OCs or references for your own! This includes roleplay!
Commissions
---
Prices
T.o.S.


Most of my art is personal or for friends to keep my spirits up. If you're interested in commissions, subscribe and keep an eye out for openings. I usually open three slots at a time, so if you want one keep your eyes peeled!
trading
---

I always have characters in need of a new home, so if you're interested look in my trade folder! I also consider offers on characters in my "Tertiary" folder who are NOT tagged NFT. If you see anyone you like who are in these folders, don't be afraid to drop me an offer! I'm always looking for USD and OC/CS who fit my preferences, and occasionally art!