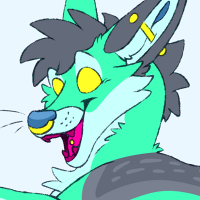 Design Wishlist/To Do List:
Fire Salamander Anthro
Some creature that is really two creatures connected by the tail
Antlered Woman with a giant hawk friend
Peacock Harpy
Biker Gang of Werewolves
Glass Hummingbird
Maple Florakitty
Koi Mermaid

Good Names:
Bruise
Ceramic
Aliferous
Woodstock
Designs/Creatures I love most
Owl Anthros
Deer Anthros/Perytons
Mythological Creatures (General)
Twisty Beasts
Griffons/Hippogriffs
Theriocephalus (Animal Headed People)
Characters based on tea
Snake Anthros
Harpies
Anything with Bioluminescence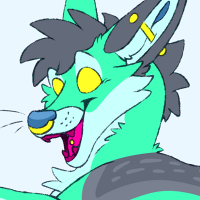 Setting: Post-Apocalyptic Earth
Safehouse
A girl immune to radiation and her hyper intelligent jackal try and find what caused their society to crumble.
The Mesh
---
High Tides, Feather Flies
The King of a tropical paradise gets lost at sea, and his only hope of getting back is a little band of pirates.
Setting: Earth-like, with animal characters.
Characters: Fergus | Sailor | King Xavier | Sam
---
Nectarine
Lady Daisy Lovett gets promoted to a Duchess. She fears her new responsibilities, but with a newly appointed personal guard, she might not have to be alone.
Setting: Nectarine - original planet
Characters: Amber | Daisy | Gravel | Nick
---
Shapeshifter
Sage, a blueblood changeling, recounts the events of her life, from the rejection in her own family to falling in love with a shapeshifter like herself.
Setting: Monster Earth
---
The Werewolf of Brighton
Discovering a lonely, confused werewolf in the allyways around Brighton, piano player Margot finds herself torn between fear and love.
Setting: Monster Earth
---
C'est La Vie
Going through the trials of their senior year of high school, six friends try their hardest to stay together as they find out who they are.
Setting: Alternate Earth. Anthro animal characters.
Characters: Izzy | Lauren | Ashley | Gretchen | Morgan | Calvin
---
The Planet Hoppers
A lonely niteowl and a catlike shapeshifter show an abused cat a new way at looking at the world.
Setting: Alternate Earth, extraterrestrial characters.
Characters: Saturn | Pluto | Comet | Paprika
---
Solitaire
Four gems hide in a cave and attempt to reconnect with Homeworld.
Setting: Steven Universe
Characters: Turquoise | Angelsite | Mookaite | Tiger's Eye
---
Pokemon: Return
A group of abandoned pokemon attempt to find their original owners. And, a couple of trainers work their way to the top to become pokemon masters.
Setting: Pokemon
Characters: Dodger | Blackjack and Poker | Sparkler | Eddy | Billie | Vallace
---
Teethnicolor
A group of two orphan girls, an eccentric sphinx, and a strange masked human attempt to document monsters as they start to integrate into human society.
Setting: Monster Earth
Characters: Lyra | Athena | Catfish | Evening | Zookeeper | Joof | Allie
---
Frequency
Three dogs unlock the mysteries of an abandoned radio station. They have drifted apart over the years, but now they must get over whatever held them back.
Setting: Alternate Earth, dog anthro characters
Characters: Erin | Pearl | Anna | Lucas
---
The Thunder Rumbles
In the aftermath of a nuclear meltdown, a strict, class-based society is enacted in the wake of a giant corporation. An Alpha and her two Betas work together to bring down the tyrannical company from the inside out. 
Setting: Post-Apocalyptic Earth