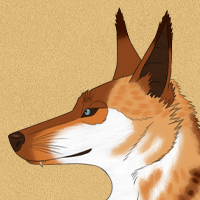 Basic Info
---
Pronounced

Nee-bee-ru Lee-lee-uhm

Species

Dyre (rufus x nix)

Anatomy

Feral | European red fox and Western coyote.
Profile
---
Genetics: White and rusty with double V saddle, dark tail end, and rosy undersides. Silky fur, icy blue eyes.
Other info: Earring made of advenium. Damaged spurs. Swift like a fox.

First appearance: 03 | Last: N/A
Status: Alive
Age: Adult / Unknown years
Born: 09 March
Interested in: Human, dyre | Heterosexual


Family ties


Mother: Arkive Lilium
Father: Melrakki Upashi
Siblings: Volkar, Solarize, Zevanox
Love: None
Offspring: None

District: Unknown
Role: Unknown


About
To be revealed.