Profile
---
Basics
About
Pancake is sugar, spice, and only a little bit nice. He's cute and he knows it, and he uses that like a weapon. All his life, he's used his cute looks to get what he wants, and has grown quite skilled at manipulating the people who need more than a wink and smile.
Getting into camming was almost second-nature to Pancake, who was already more than familiar with fooling around online and roping people into his shitty little schemes. Once he turned 18, he went full throttle making a name for himself online, and it didn't take very long before he began rapidly gaining a fanbase. As he grew in popularity, he began staging everything out where he wanted it. It's easy enough to manipulate horny people with the right kind of words and attention, and Pancake had very little isse getting himself a sugar daddy. Then two. Three. It grew to five after awhile, and Pancake loved pitting them against each other to prove which one of them is the best, which always resulted in him drowning in money, gifts, and vacations.
Despite being uninterested in space travel, Pancake's homeworld was eventually invaded by military forces, and he had to get off the planet before it was overrun. He managed to get to a massive space port, where he browsed around for a few days until it became apparent that no one was going to hire him for anything because he had zero applicable skills in regards to space travel or being a ship's crewmate. No one was interested in his history of being a cam-boy, and he was certainly looked at with a fair amount of disdain when it was painfully apparent just how high-maintenance he was. Since Pancake was unable to go back to camming, his sugar daddies lost interest in him, and left him with only the money he had, no parting gifts. Pancake eventually had to all but buy his way onto a ship called The Wanderstar, which, for as nice as the name sounds, has bored him to tears. An exploratory ship and crew, the Wanderstar's captain immediately put Pancake to work learning the position of communication's officer, as Pancake's only real credentials were that he knew several languages. Pancake is whiny and oftentimes refuses to cooperate, but he does admit that he likes having something to do.
They're currently wandering about in uncharted space, and Pancake probably has his feet on the console as we speak.
Character
MBTI
ENTJ - The Commander
---
Enneagram
Type 7 - The Enthusiast
---
Alignment
Chaotic Neutral
---
Preferences
Likes
Expensive shopping sprees
K-pop concerts; he'll travel anywhere
Rainy weather; perfect for cuddles
Dislikes
Planning things; he prefers spontaneity
Having to be nice to his sugar daddies
Any kind of aquatic travel; he gets seasick
Trivia
Actual collar is a plain black choker, hidden under his tank straps
Glasses are optional, but they're his favorite accessory!
Halo, moon mark, and tattoo are ALWAYS glowing!
Eyes are white irises with lilac pupils; sclera are black
Fishnets are removable; they're just socks for his thighs
Aesthetic
Playlist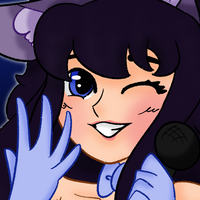 Bestieeeee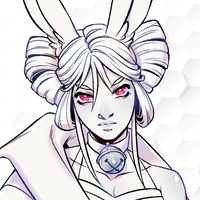 Stupid idiot Pancake has no friends