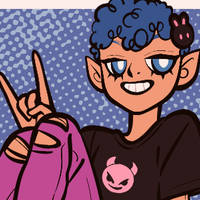 Basic Info
---
Personality

Hasty and Finicky

Favorite School Subject

Recess

Favorite Middle-Earth Name

Helchon (bitter cold one)

Quotes

"Solnishko, there's an even more important question on everybody's minds: what did he name his rival?"

"Know the value of your work!"

Favorite Mando'a Terms

iviin'yc – fast, quickly.

adiik – child aged 3 to 13.

vor'e – "thanks". this is the informal way to express gratitude in Mando'a.
Profile
---
twins with tadashi: my original little brother characters.
toshiro handles the fighting, tadashi handles the healing.
Tadashi likes hosting tea parties. Toshiro prefers starting food fights.
Toshiro can figure out how to fight with anything.
Call them TnT if you're addressing both of them, but they do appreciate being addressed individually.