carrd | twitter | ko-fi | patreon | twitch | youtube | art fight | wordpress | newsletter | tumblr
fae/faer, he/him, they/them (singular). masc and neutral language. 24. writer / artist.
Call me HFE or Hale. mostly on here for character storage.
anyone who's attacked by me in art fight is welcome to upload their attacks here with credit! if your character was part of a mass attack, just comment / message me, and i should be able to get you the isolated image of your character.
how to use my pronouns.
nominative (fae): fae likes to write.
accusative (faer): lots of people like faer.
pronominal possessive (faer): this is faer book.
predictive possessive (faers): this book is faers.
reflexive (faerself): Hale's working on believing in faerself.
Latest Bulletin
---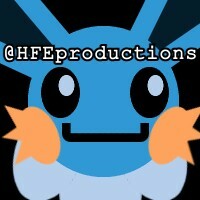 what's up, bitches? your savior. has. arrived!
I'm Muddy, a Mudkip-Eevee fusion! I use it/its pronouns.
some people say it/its pronouns are dehumanizing. good! i'm a fucking Mudvee; i don't need humanity!  you bitches don't even have universal healthcare!  maybe if i stab enough of you, you'll figure it out.
"Muddy, why'd it take you so long to join toyhouse?"
bitch all i had was a fucking jpeg! i ain't joining toyhouse with just a jpeg!! i am Muddy the Mudvee!!!
so yes, now you can admire my splendid form here on toyhouse. be grateful.
Recent Characters & Designs
---