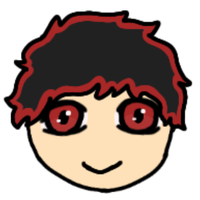 Profile
---
  Identity
Full Name: Cain Zetsubo 
Date of Birth: 12/24/??
Sex: Male
Sexual Orientation: Pansexual
Handedness: Right handed
Age: 235
Zodiac: Capricorn
Gender: Male
Romantic Orientation: Panromantic
Blood Type: AB+
  Physical Description
Hair Color: Black with red strand
Eye Color: red
Skin Tone: Beige
Disting. Feature: his red strand
Scars: Yes
Height: Medium
Weight: ??
Build: Ectomorph
  Other
Other: He always wear sassy clothes
Other: He loves red and don't allow that someone wear red except him
__________________________
__________________________
Sexy- Smart - Bastard
"
I don't suck only blood ;)
"
Personality
LIKES
blood
suicide
Sassy clothes
Science
Sexe
DISLIKES
his brother
Dirt
Life
Kids
Human
  Description
Cain is a vampire, with a complicated family, who overnight started to disliking immortality with the goal of losing it, made some mistakes wich made some disasters and he now the most researched criminal in the world. And all that he wants is to die :D
  Other
Other: He regularly tries to commit suicide to check if he is still immortal
Other: He hates humans and kills all those who have the misfortune to cross his path which makes him the most most research man in the world
_____________________________
___________________________
_____________________________
___________________________
Bio
Family
Cain grew up in a family constitued of bastards, who were only interested by money, that's why he loves pretty clothes. He has two little brothers who are twins and one of them is dead killed by the other. He hates his parents, he hates his brother, so he wants to die. (his parents love him, but it isn't the case for Cain)
The 5 mistakes
With the goal of dying, he tried some experiments, at first in a boy who he turn into a werewolf, who bites and spread his desease, but all bitten people died from it, except Ideri. Then, he made an experiment on another dead boy who turn into a zombie, Tommy. After that, he tried to dissect a siren, Trully and gave her legs. And finally, gods sent a totem spirit in order to stop Cain's deeds, Kinju. So, to avenge that thing, he used Blanche, a rich girl like a doll and turn her into a dark angel.
After the mistakes
After those mistakes, Cain was alone, with Tommy who was to stupid to left him and Blanche who is his sex friend. Now his only goal is to die and escape from the government, Ideri, and his brother, even if they want to kill him. he continues his experiments in order to die right now he is experimenting with genetics which gives birth to Left the son of Stephen and Arashi. 
__________________________
__________________________
__________________________
__________________________
Relationships
Brother
They have a complicated relationship, they love eachother as much they hate the other. Cain hold disppointement against Stephen for the murder of their third brother, Cain dreams secretely about killing Stephen.
Sexfriend/Lover
He likes her, and he don't understand that, liking her like he think he does is already a big thing to him. 
experiment/enemy
 Ideri is a part of the five Cain's mistakes, in first they were frien but Ideri discover that Cain was the reason of his werewolf condition. Now they can't put up with the other, Cain makes everything to escape from Ideri and they already kissed once.
experiment/righthandman
Tommy is Cain's first experience and the only one that is still 100% loyal to him
experiment
Trulli and Cain have not spoken to each other since Cain helped her by giving him legs. Cain will recontact her if he needs her
_________________________
_________________________
_________________________
_________________________
More
TRIVIA
• Cain loves flirting and that often work (specially with girl with daddy issue)
• Cain really love BDSM
DESIGN NOTES
• If you change his clothes please always draw sassy clothes
• Most of time he wear his gold necklace
FACTS
• The first time I drew cain it was to test to draw shadows (I call him shadow experience)
• Its Always fun to see him die in hunger games
__________________________
__________________________
__________________________
__________________________