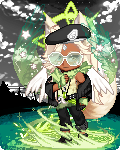 Profile
---
this profile is old! some of the info may be outdated or inaccurate.


Zeus Cloudbank
the unwilling scion
⚡ 💤 🌩️ 💤 ⚡
---
Basics
Name: Zeus Etretia Cloudbank
Species: ???
Ethnicity: ???
Birthday: February 7
Age: 26
Gender: Trans male
Pronouns: He / him
Orientation: (He has no fucking clue.)
Profession(s):

Heir to the Cloudbank fortune
Ticket seller at a movie theatre
---
Appearance
Skin: Medium brown with pronounced cool undertones
Hair: Platinum blonde (w/ lime green streaks)
Fur: Harvest gold
Eyes: Pale sky blue (left); pale golden yellow (right)
Tentacles: Platinum blonde
Height: 5' 7" / 170 cm (from top of his head)
Build: Athletic, slim and muscular
Other Characteristics:


Perpetual bags under his eyes
Has indigo blood
---
Personality
Alignment: Chaotic Good (bordering on Chaotic Neutral)
Enneagram: 5w4 (w/ sexual variant)
Jung / MBTI: INTJ
SLOAN: RLUEI
Temperament: Melancholic / Choleric
Zodiac: Aquarius
Positive Traits: Crafty, empathetic, freethinking, individualistic, observant
Neutral Traits: Asocial, eccentric, intelligent, soft-spoken, stubborn
Negative Traits: Apathetic, melancholic, sarcastic, temperamental
Description
At first glance, Zeus is a moody weirdo loner with a chip on his shoulder, and most folks that know him give him his space. His softer, nerdy side shows through, though, if you stick by him long enough. He knows a little bit about everything, and if you ask him about the right thing his mouth takes off like a rocket. He says he has little sympathy for other people's problems, but finds himself helping or giving advice anyway.
---
Stats
| | |
| --- | --- |
| Strength | ⚫⚫⚫⚫⚫⚫⚫⚪⚪⚪ |
| Agility | ⚫⚫⚫⚫⚫⚫⚫⚫⚪⚪ |
| Dexterity | ⚫⚫⚫⚫⚪⚪⚪⚪⚪⚪ |
| Constitution | ⚫⚫⚫⚫⚫⚫⚫⚪⚪⚪ |
| Intelligence | ⚫⚫⚫⚫⚫⚫⚫⚫⚫⚪ |
| Wisdom | ⚫⚫⚫⚫⚫⚫⚪⚪⚪⚪ |
| Willpower | ⚫⚫⚫⚫⚫⚫⚫⚪⚪⚪ |
| Charisma | ⚫⚫⚪⚪⚪⚪⚪⚪⚪⚪ |
| Magic | ⚫⚫⚫⚫⚫⚫⚫⚫⚫⚪ |
| Luck | ⚫⚫⚫⚫⚫⚪⚪⚪⚪⚪ |
Powers
Illusions — Zeus has little practice with illusions, but he can throw his voice and do other auditory tricks.
Pyrokinesis — His favorite ability to work on. He hopes to one day refine his fire into lightning.
Transformation — Zeus has three main forms – a human form, a fox form with tentacles for tails, and a rarely-used octopus form, and he can tweak his humanoid form to his liking. Technically, Zeus still isn't in his "true" form when he's humanoid, as it's not his born-with appearance, but he's stuck with it for so long it's become his default look.
Inventory
Smartphone — A standard smartphone with black-and-green checkerboard case. Has his favorite music and ASMR files on it. Increases intelligence and magic.
---
History
The wayward child of a prestigious family with a long, rich legacy, Zeus booked it from his hometown after college thoroughly kicked his ass and his family's controlling ways became too much for him. Once considered a gifted kid with lots of promise, his hoity-toity relatives have labeled him the black sheep of the family, and see-saw between trying to buy him back into the fold and wanting nothing to do with him. Zeus likes it waaaaay better when they do the latter, and lives a far more modest life working the ticket booth at a small town movie theatre.
---
Relationships
Kana Averi — Best friend(?). Zeus still doesn't know how a sweet, bubbly girl got attached to a brooding hermit like him, but he'll take what he can get.
Jacqui Sparks — Partner-in-crime. Pyromaniac asshole friends that share a braincell whenever they're together. Zeus sometimes accompanies them on their urban explorations.
---
Faves
Favorites
Book(s): Magic texts, chick-lits
Drink(s): Grape-flavored Gatorade
Food(s): Fried chicken
Fashion Style: Emo, punk, just-rolled-out-of-bed
Movies / TV: Chick flicks, action / adventure
Music: Lo-fi
Hobbies: Spellcasting, composing music
Interests: Hypnosis ASMR, speedrunning
Other Likes: Cats, stim videos
Dislikes: Being restricted, opening up to people
Symbols
Animal: Snowy owl
Colors: Lime green, black, golden yellow
Elements: Fire, Air, Light
Flower / Plant: Anemone
Mineral: Howlite
Playing Card: Five of Spades
Scents: Pine, popcorn
Sin | Virtue: Sloth | Kindness
---
Other Tidbits
He suffers from insomnia, and listens to hypnosis ASMR to help knock himself out.
Zeus was considered a gifted kid all throughout elementary, middle, and high school. Failing at college was a massive blow to his self-esteem.
Zeus is a triplet. His sisters were born 10 and 6 minutes before him.
He used to play soccer and trained extensively to keep himself in shape. After he moved away from his parents, he's let all but the most basic exercises go.
Zeus never learned how to cook, and lives almost solely off of fast food.
If it wasn't for going back and forth to his job, Zeus would be a full-blown hermit.
He ojou laughs. He does the hand pose and everything.