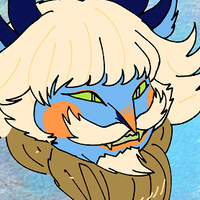 Basic Info
---
Aliases

Morning Star, Mr. Scratch, etc.

Pronouns

he/him (sometimes she/her or they/them, Lux is not picky)

Favourite food

SOULS! Probably. I don't know.

Weakness

Allergic to silver
Profile
---
"There's nothing as bright as the sun BUT I have lots of wonderful indoor lighting solutions that make it seem like it's.... what's that word again? 'Day'? Is that what they called it in the olden times...?"
CEO of HEL Ltd., (formerly HEL Electrics) a company for lighting solutions. Unfortunately, he holds the monopoly for all light on earth, as the Sun, the Moon and the stars have mysteriously vanished. It's a good thing he came along, eh?
Enter his hellfire-fueled environmentally conscious source of light! What an innovator.
Please note: Lux usually has polydactyly in his hands, six digits per hand.