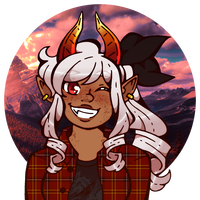 Profile
---
🔥
kelisade fio
🔥
rider of the red sky
🌅 🌇 🐉 🏹 🔥 🏹 🐉 🌇 🌅
🎵 ~ Now dance, fucker, dance, he never had a chance
And no one even knew it was really only you ~ 🎶
---
🏹 basics 🏹
name: Kelisade Vidalia Fio
species: Human / Demon (Concubus)
ethnicity: ???
birthday: April 10
age: 15
gender: ¯\_(ツ)_/¯
pronouns: She / her
orientation: ¯\_(ツ)_/¯
profession(s):

Amateur dragonkeeper
Student at Starfell Academy
---
🐉 appearance 🐉
skin: Medium tan w/ warm undertones
hair: White with pale pink iridescence; natural corkscrew curls; stops in the middle of her back
eyes: Pinkish-red (with colored triangular pupils)
horns: 6", Z-shaped, dark red - burnt orange - pastel yellow gradient
tail: Long, leathery, with a triangular tip; dark red with a burnt orange - pastel yellow gradient near the tip
height: 5' 4" / 163 cm
build: Apple-shaped and stocky
other characteristics:

Freckles on various parts of body
Larger-than-normal canines
Long, snake-like tongue
---
🌇️ personality 🌇️
alignment: Chaotic 
enneagram: 7w8, sexual variant
jung / mbti: ESFP-T
sloan: SLUEN (primarily Social)
temperament: Sanguine / Melancholic
zodiac: Aries
positive traits: Cheerful, sociable, thoughtful
neutral traits: Chatty, independent, wily
negative traits: Emotional, stubborn, tactless
Kelisade is the epitome of the word "troublemaker". She's a bone fide class clown with a trickster-like mentality, and is constantly goofing off to the chagrin of any adults in charge. However, Kelisade can be surprisingly soft-spoken when she's not making teachers pull their hair out. She has moments of thoughtful deliberation that shocks everyone more familiar with her seemingly impulsive nature. She is still incredibly bullheaded most of the time, and will not let go of an idea once it's entered her skull, even if it's a horrifically bad one.
---
🌅️ trivia 🌅️
favorites
book(s): what are books
drink(s): Strawberry lemonade fruit punch
food(s): Hawaiian barbeque pizza
fashion style: Grunge, hipster; plaid buttons, imitation vintage shirts, torn leggings, and worn converses
movies / tv: Cartoons, action
music: Metal, rock n' roll
hobbies: Antkeeping, smashbooking
interests: Playing electric guitar, the Beastmaster profession
other likes: Food, zoos and aquariums, wrestling shows
dislikes: Keeping still, being looked down / underestimated
symbols
animal: Corvus brachyrhynchos
colors: Dark red, black, golden yellow
elements: Fire, Sky, Shadow
flower / plant: Dianthus caryophyllus (purple)
major arcana: The Chariot
mineral: Carnelian
playing card: Jack of Diamonds
scents: Cinnamon, spices
sin | virtue: Lust | Diligence
---
🏹 stats 🏹
| | |
| --- | --- |
| strength | ⚫⚪⚪⚪⚪ |
| agility | ⚫⚫⚫⚪⚪ |
| dexterity | ⚫⚫⚫⚫⚪ |
| constitution | ⚫⚪⚪⚪⚪ |
| intelligence | ⚫⚫⚫⚫⚪ |
| wisdom | ⚫⚫⚪⚪⚪ |
| willpower | ⚫⚫⚫⚫⚫ |
| charisma | ⚫⚫⚫⚫⚪ |
| magic | ⚫⚫⚪⚪⚪ |
| luck | ⚫⚫⚫⚫⚪ |
powers
archery — She initially took up archery as a hobby, but has decided to see how far she can go with it. She doesn't need to use physical arrows; she's learned how to shoot magic arrows instead.
empathy — Kelisade can sense and feed off of the emotions of humans and other sapient creatures.
pyrokinesis — She can summon and control fire at her leisure. Her control is kinda shaky outside of making her fire arrows, though. 
soul bond — Kelisade is permanently bonded to Chirenne, a sapient, pony-sized, adolescent red dragon. Their bond lets them talk telepathically and work in sync in battle. 
inventory
embergloom — A magic shortbow. Kelisade's aunt commissioned the design and Kelisade herself enchanted it. Increases agility and wisdom.
gold jewelry — Earrings and various bracelets and bangles enchanted to help enhance her powers. Slightly increases magic.
whistle — A simple gold whistle. Chirenne will hear it when it's blown, no matter what, and will rush to the whistle's location. Slightly increases wisdom.
---
🐉 history 
🐉
Kelisade Fio was born in a normal hospital to a normal mother in a normal town. Soon after her birth, she would be taken to her normal house in a normal suburb, meet her normal soon-to-be-stepfather, and be set on the path towards a normal life.
Two things are going to fuck with that.
1.) Kelisade was the result of a one-night stand with a concubus, and was obviously part-demon, with all the weird emotional development that entails, in a town of mostly humans.
2.) Kelisade had managed to telepathically bond to the dragon Chirenne almost as soon as she could walk, and the dragon was just as temperamental as her and twice as stubborn.
The result? An unstable, hyperactive, too-smart-for-their-own-good bomb of a child that terrorized both her parents and the local school system for almost a decade.
It was bad enough that Mrs. and Mr. Fio almost missed their charming child's very first day of school because someone had reset all of the clocks. It was bad enough they could barely get their little darling ready, as she fought them every step of the way. It was bad enough that what would have been a cherished memory for all involved devolved into a screaming, screeching, snotty fit once their sweet baby realized her dragon friend couldn't come with her. But when itty bitty Keli finally stepped over the threshold of their kindergarten class, she quickly morphed into a teacher's worst nightmare.
Kelisade disrupted lessons. She picked fights with her fellow students. She pulled pranks on her instructors. She flagrantly broke the rules. She skipped classes at her leisure. She damaged school property. She sicced Chirenne on people for fun. Meeting upon meeting upon meeting was held because of Kelisade's behavior, grade after grade, year after year. And the poor, beleaguered parents, already worn thin by their tornado of chaos at home, were dragged in for every infraction, every outburst, every prank, every wrong blink.
And then, it finally happened. With a paperclip, a homemade piñata, and the cafeteria's supply of mayonnaise packets, a 13-year-old Kelisade had utterly destroyed the school's state-of-the-art marquee sign. Chaos exploded. Police were called. Lawsuits and charges were threatened. Ultimately, the school decided Kelisade had become too much trouble and simply gave her the boot.
For anyone else this would have been a massive road bump, or the start of a downwards spiral. Fortunately for Kelisade, she had a guardian demon waiting in the wings this entire time.
Zyril Tione, the sister of Kelisade's biological dad, had taken up the task of checking in with the results of their sibling's misadventures. She had no trouble keeping up with Kelisade, as she and Mrs. Fio had been good friends since before that one-night stand, and Zyril had made a point to visit the little ball of hell every so often. So when Kelisade was expelled, Zyril was already there to offer support — and a solution.
Look, she said. This treating-Keli-as-a-normal-human thing is noble, but obviously not working out. Kelisade needs to go to a school that can give her a proper outlet for her energy so the worst of her stunts wouldn't happen again. And lucky for y'all, I know just the place!
There was a flurry of paperwork involved, and a lot of fussing and packing and preparing and making room for Chirenne. But when all was said and done, Kelisade was the latest resident of the Astrolabe, and the newest student at Starfell Academy. 
---
🌇️ relationships 🌇️
Chirenne the Churlish — Soulbonded partner. She and Chirenne are damn near connected at the hip. Keli is constantly smothered under the weight of her protectiveness.
Jupiter Corentine — Friend, partner-in-crime. Prepare for trouble, and make it double! Kelisade loves hanging out with him and they vibe with each other like nothing else. They probably shouldn't be left alone for any significant length of time, though.
Rune Leovani — School-assigned partner. Kelisade did not like Rune at first — she could not read their emotions for anything in the world, and it was creepy and unnerving. But when the royal started warming up a little and more of their self shone through... well, Keli guesses they're alright...
Polaire Montblanc — Tutor. Polaire is supposed to be helping her with literature, but she goes way too fast.
Zyril Tione — Aunt. Kelisade adores her aunt, even though she's not sure how to show it.
---
🌅️ miscellaneous 🌅️
Kelisade takes care of a polygynous, polymorphic fire ant colony with at least three semi-sapient queens.
Kelisade has a black hole for a stomach. She is constantly snacking and leaving wrappers everywhere.
She has signs of being autistic and / or having ADD, although she hasn't been diagnosed with either.
Kelisade actively hates wearing the Starfell Academy and will try casting an illusion over her normal clothes just to not have to wear it.