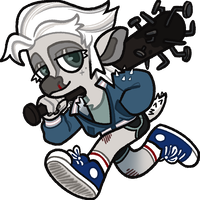 Profile
---
Name
BK (BabyKing) Quillson
Pronouns
they/them/he/him
Age
Adult/Teen (varies in depiction in story)
Species
North American Porcupine
Hometown
West Coast / NorthEast Coast
Occupation
Various (pizza, burgers, Blockbuster, etc)
BK, or BabyKing (sometimes just 'Baby' or 'King', depending on who's talking to them) is Porcupine. Their "actual" name is Florence, but nobody calls them that.
This sona is more anthro in design and is secondary to Guy. I use them to vent about past and current struggles, as well as to reclaim things that have not-so-great associations. Bisexual and had a gay crisis in High school, plus has a handful of issues...
About / Personality
BK is a North American Porcupine. He's somewhat a Jock, and enjoys athletics. His story takes place in the 1980's, so his wardrobe and surroundings reflect this.
BK is Bisexual, and had a gay crisis when figuring this out in high school. They took a while to come to terms with this, and took time to explore themselves.
BK is trans-masc. They socially transitioned at a young age, and physically transitioned soon after. This has never been a huge deal for them (See design notes for more info).
Trivia
80's style/aesthetic
gets crushes a lot but isn't happy about it
smells like old spice
Loosely inspired by Steve Harrington (Stranger Things), Baby (Baby Driver), and Marty McFly (Back to the Future) among others
BK is Short for BabyKing (some call him 'Baby' or 'King')
---
Likes
exploring, breaking stuff (in junkyards)
filming/photography, polaroids, mixtapes
sneaking food into the movies
defending/standing up for themself and their friends
arcades, bowling, rollar rinks, fast food
Dislikes
getting into (and losing) fights
bullies, abuse, manipulation
assive aggression, disloyalty, being ghosted
trauma, traumatic events
Appearence
BK is an anthropromorphic North American Porcupine. His anatomy is mostly humanoid (plantigrade humanoid legs, hands and feet, and posture). He's lanky but muscular.
His animalistic features include: Snout, ears, tail, claws, spines, and rough texture on palms/feet (adjascent to porcupine paws).
Spines start on back of neck, go down shoulders, upper arms, and back, and end on the tip of their tail. Spiny areas are white/pale.
Hair/top of head is NOT SPINY. Hair is big and usually an overgrown mullet.
hair
white/pale (with optional sparse dark strands)
Design Notes
"Hair" is soft, often unruly, and tends to be pushed back.
Hair is white with a few dark strands
Quills are white and located on tail, back, and neck; NOT on their head!
Quills are only a few inches at most (on the shorter side)
Shortish tail that has quills down the top
Ears are abnormally large for a porcupine, and very emotive
Transition Information
Voice, Build, and Body Hair are all masc-presenting
Began taking T around puberty
Unsure if they ever received top surgery; nonetheless, the white area on their back curves into small stripes under their pecs, resembling chest scarring
No bottom surgery; no interest
Relationships
BabyKing has a bit of a history with a number of other characters, all of which have very different relationship dynamics. They know a lot of their friends and peers from school, work, and parties. They tend to match the energy of the peers they're round, being a bit more reckless and chaoic around high-energy pals, sometimes being rowdy and destructive. They love their friends a lot, and care a lot about their 'rivals', even if they don't exactly show it.
n/a + 508 | HTML by Eggy + edits by Sproutlette